What Was She Thinking? Madonna Shares Pic Of 13-Year-Old Son Rocco & His Pals Partying With Booze Bottles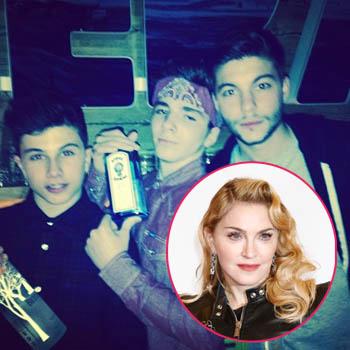 Madonna has admitted to being too lenient with her kids but her latest pic of son, Rocco, has fans wondering if she's gone further than ever in letting them grow up too fast.
"The party has just begun! Bring it! 2014," the singer wrote Saturday night along with a picture of Rocco, 13, and two of his friends, all holding bottles of booze!
In the pic, Rocco, Madonna's son by director Guy Richie, is seen showing off a bottle of Bombay Sapphire gin. His two friends are each cradling bottles of Belvedere vodka.
Article continues below advertisement
The young teens aren't seen actually drinking in the pic but the idea that Madonna had the boys pose with the alcohol while tweeting "the party has just begun" has some fans in an uproar.
"It is poor judgment to glorify substances to children," wrote one.
The image comes just days after Rocco posted his own New Year's day pictures of himself holding what appears to be a glass of Champagne and another, posing in front of a liquor cabinet.