Exclusive
Khloé's Relationship Revenge: Lamar Odom 'Afraid' He's Going To Be Portrayed Negatively On Upcoming Season Of 'Keeping Up With The Kardashians'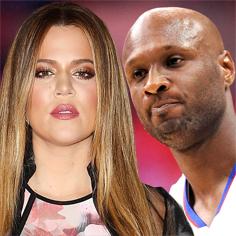 Having filed for divorce, Khloe Kardashian has one large soap box if she's to seek revenge against her soon-to-be ex-husband Lamar Odom — the family's popular reality show Keeping Up With The Kardashians.
The show has already teased that 34-year-old Odom's philandering and drug use is to be a major storyline for season nine, due to premiere on January 19.
A source close to Odom told RadarOnline.com: "The last thing Lamar needs in his life is to be portrayed as a schmuck. Khloe has assured him that it won't be bad, but how can it not be? The end of the marriage is going to be Khloe's main storyline next season and Lamar is afraid that his drug use and cheating will be addressed on the show.
Article continues below advertisement
"At the same time, he is trying to make a career comeback and he thinks this is going to hinder and hurt those efforts. He feels he's going to be used to get ratings for the Kardashians."
As we previously reported, 29-year-old Khloé has still been talking daily to her estranged NBA husband.
Despite the contact, there are no plans for a reconciliation.
"She is making sure he is taking care of responsibilities with his DUI and meeting with his trainer," an insider revealed.
"It's definitely a mother-son type of relationship. There will always be a lot of love there between the two, but Khloe has definitely moved on. There are zero plans for the former couple to reconcile and both are very amicable right now, which is a good sign for the divorce. It should be quick, with no drama."
Khloé's momager Kris Jenner recently voiced her support for her daughter's decision to file for divorce.
"I still love Lamar and I love Khloe and I hate, hate they're going through this," Jenner said of the breakup, adding: "But if it's something that Khloe feels she needs to do then I'm 150 percent behind her. We all lean on each other, we have to."
Said the Lamar insider: "Kris pulls all the strings in the family and she is privately disgusted by Lamar's behavior.
"He knows Kris is a person to hold grudge and will make him pay for his past transgressions. At the same time, he is glad that he will no longer have to live his life with cameras around."