The Last Few Dribbles: Khloe Kardashian Still In Contact With Lamar Odom, But No Plans On Getting Back Together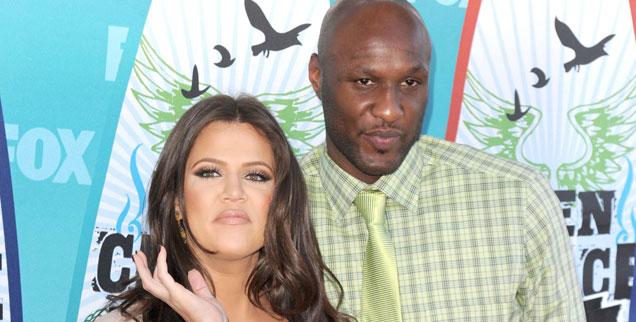 Despite filing for divorce from love rat husband, Khloe Kardashian HAS been talking daily to estranged NBA husband, Lamar Odom, but there are no plans for a reconciliation, RadarOnline.come is exclusively reporting.
"Khloe has been in constant contact with Lamar daily since filing for divorce ... she is making sure he is taking care of responsibilities with his DUI, and meeting with his trainer," a source told RadarOnline.com exclusively. "It's definitely a mother-son type of relationship. There will always be a lot of love there between the two, but Khloe has definitely moved on.
Article continues below advertisement
"There are zero plans for the former couple to reconcile, and both are very amicable right now, which is a good sign for the divorce. It should be quick, and no drama."
Opening up to British Cosmopolitan in an exclusive interview, the reality star admitted, "I'm excited for this year to be over. I need a good fresh start.
"You only live once so let's make that one time perfect. We can't fix our mistakes and imperfections, so let's have fun. You get what you give out in life," she added. "I don't regret anything about my life. My life has made me who I am at this moment and I'm very happy with who I am. No matter if it's great, disgusting, beautiful or ugly; it happens and it makes you you. Life is about how you process things."
"I still love Lamar and I love Khloe, and I hate, hate they're going through this," Jenner reportedly said of the all-but-unexpected breakup, which Khloe solidified Dec. 13 in filing for divorce. "But if it's something that Khloe feels she needs to do, then I'm 150 percent behind her.
"We all lean on each other, we have to."
Odom very much "appreciates having Khloe in his life....he is thankful to her for making sure he is taking care of business obligations, and meeting deadlines. The two will always be friends," the source added.