Kardashians Are Having The 'Christmas From Hell' Family Insider Claims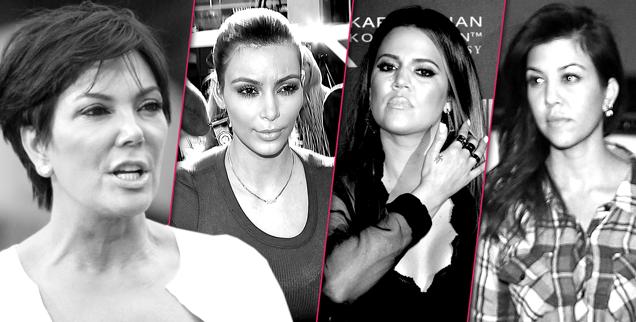 It's a Christmas the Kardashians won't forget -- but not in a good way.
According to a family insider, this is going to the "Christmas from hell" for the reality TV family who all appear to be split or feuding with the men in their lives.
Khloe Kardashian just filed for divorce from her estranged husband, Lamar Odom, Kris Jenner and hubby Bruce recently announced their separation, Kourtney's relationship with Scott Disick is imploding, Kim feels smothered by her overbearing momager, and that's just the tip of the iceberg.
Article continues below advertisement
"This is the Christmas from hells," a family friend told In Touch magazine.
They Really Did Say It! 50 Outrageous Kardashian Quotes
"Khloe just wants to bury her head in the sand. She wishes the holidays weren't happening."
But matriarch Kris is hell-bent on having a perfect holiday season despite it being "just a horrible time for Khloe," the magazine reports.
Kim and Kris have been butting heads about her upcoming move to Paris with fiancé Kanye West.
"Kanye isn't budging. He's forcing Kim to change her whole life and move," the source told In Touch.
"He doesn't want to bring the Kardashian machine to Europe. That hasn't sat well with Kris."
Meanwhile, as RadarOnline.com previously reported, Kourtney's other half Scott has been partying hard again causing a rift between the couple.
And Rob, who didn't even appear in the family's annual Christmas card because he's unhappy with his weight, is also at odds with his overbearing mother, the magazine claims.
Article continues below advertisement
As for the Jenner girls, Kendall has been putting her family on the backburner to fly thousands of miles to see new boy toy Harry Styles even though "he's not making the same effort to see her," an insider told the tabloid.
The youngest, Kylie, seems to be forgotten in most of the family's drama and the source thinks she could turn into the next Lindsay Lohan.
"She's a wild child friends say could be the next Lindsay Lohan," the family pal said.
"But Kris has been ignoring her -- she's more focused on making Kendall the new Kim."