Exclusive
Secret Behind Bizarre Kardashian Christmas Card: Kanye West Was In Control! His 'Vision' Stunted By Budget Constraints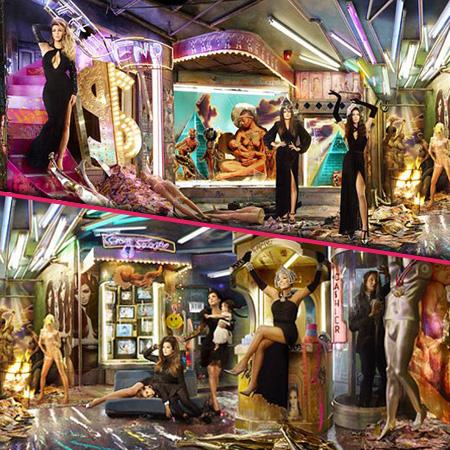 Article continues below advertisement
"It turns out that Kanye was the puppet master behind the photo shoot, as he provided art direction, sketches, and costume and makeup ideas," the source told Radar.
They Really Did Say It! 50 Outrageous Kardashian Quotes
As Radar has previously reported, the Kardashians' 2013 Christmas card shocked fans by shunning holiday coziness in favor of a futuristic fantasy.
According to the Christmas TV special, LaChapelle decided to focus on the Kardashian women, with both Kanye and North West, the baby daughter he raises with Kim, left completely off the card.
"Annie tried to play hardball with Kanye over the money, but the production had to stick to their budget," the source said.
"Ultimately, Annie and Kanye fell out of negotiations."
Then Kanye approached Testino, who, the source said, "laughed it off as a total nightmare assignment. But that happens to be David LaChapelle's specialty, so he wound up with the gig.
"David was, at best, the third choice and one dictated more by budget than Kanye's much-vaunted 'vision,'" the source said.