Exclusive
Kardashian Family Christmas Card Cost $250K To Shoot -- 'KUWTK' Production Footed The Bill!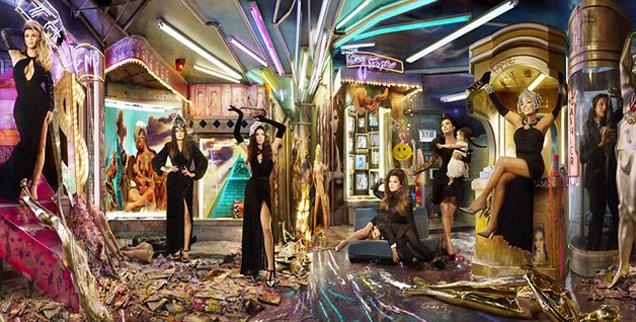 The high fashion Kardashian/Jenner family Christmas card shot by famed photographer David LaChapelle cost a whopping $250,000 to shoot, but the first family of reality TV didn't pay a dime because the production company for Keeping Up With The Kardashians footed the bill, RadarOnline.com is exclusively reporting.
The elaborate photo shoot took "three days just to put the set together. David was extremely involved in all details of the set installation. It was Kim's idea to get David to do the family photo Christmas picture," a family insider told Radar.
Article continues below advertisement
"At first, David balked because he does photo shoots for major magazines, but Kim convinced him to do it. It wasn't a cheap photo shoot, and the production company of Keeping Up With The Kardashians paid the $250,000 invoice. Hair, make-up, wardrobe, were all paid for by production, and the Kardashians didn't pay one dime for their Christmas card!"
On Sunday night's episode of Keeping Up With The Kardashians, LaChapelle decided the card should only feature the women of the family.
Kris Jenner loved the scheme, and while Rob Kardashian and Scott Disick didn't care about being on the card, Kendall Jenner felt bad for her father, Bruce.
And when the teen visited him, Bruce looked terribly hurt that he wouldn't be on the card the source revealed.
"Since Lamar and Kanye can't do it and Scott and Rob don't care, I think it's just going to be the girls," Kendall said.
The former decathlete raged to Kendall, asking whose idea it was and when Kendall said the photographer was behind it, Bruce scoffed.
Article continues below advertisement
Celebs Who Have Slammed The Kardashians
"We've done it for 23 years and now all of a sudden they want to change it? Maybe mom and I – our relationship is a little different but we're still a family. It's your mom's and my Christmas card," Bruce told her.
After a heart-to-heart talk with Kris, Bruce was ultimately was included in the photo.
Bruce implied to the cameras it was all Kris' fault, then fumed to her, "I've never in the past had to be invited to our Christmas card."