Scott Disick Reportedly 'Living Apart' From Kourtney Kardashian, Seen Out With 'Exotic' Brunette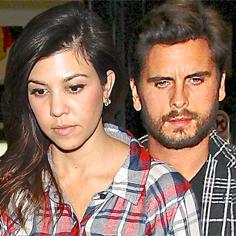 The divide between Scott Disick and Kourtney Kardashian grows wider and wider, as tension between the eldest Kardashian sister and her two-time baby daddy is bubbling to the surface as the year draws to a close.
Multiple reports place Disick and Kourtney as living apart for the time being, with the debonair hunk taking up at the Montage Beverly Hills, a five-star hotel near Rodeo Drive.
An onlooker told Life & Style they saw Disick at the hotel's bar alone, where he looked "very content … enjoying the peace and quiet," while a separate eyewitness dished to In Touch how the man the Kardashian clan calls "Lord Disick" had a lady there -- and it wasn't Kourtney!
Article continues below advertisement
Thomas Johnson, who was present at the upscale establishment, said the brunette "was in her 20s and exotic-looking.
"She was pulling a small suitcase on wheels and Scott put both of his arms around the small of her back kissed her on the cheek and whispered into her ear," Johnson said, adding that Disick "kept his hand on her hips and leaned back, as if to check her out.
"The way he touched her, the way they looked at each other suggested they were a lot more than friends," Johnson said.
In another tell, the dashing male socialite was not present this month at two events commemorating his son Mason's 4th birthday: a trip to Disneyland, and a Staples Center presentation of Disney on Ice.
"Kourtney is furious and hurt that he slipped back into his old habits," a Kardashian insider told InTouch. "She loves him but she hates how he reacts when he's partying.
"It's humiliating -- and she's over it."
Article continues below advertisement
Other family sources told Life & Style his breakdown with Kourtney is basically collateral damage, as he copes with the recent passing of his mother Bonnie with late nights and fast living, evidenced by recent outings in Miami and Houston where he partook in local nightlife.
"He still refuses to talk about his mother's death," and is "essentially ignoring his feelings," a family source said. "He's really off the rails."
Another Kardashian source told InTouch that Kourtney "is devastated" with the recent turn of events.
"She always wanted Scott to be the one," the source said. "Instead, he's broken her heart."