Exclusive
Ke$ha Seeking Help For Booze -- In Addition To Eating Disorder — After 'Worried' Advisors Raised Concerns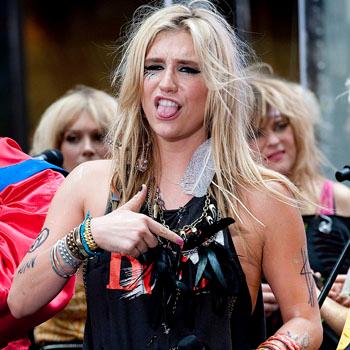 While Ke$ha has openly admitted she entered a rehab facility for help with an eating disorder, RadarOnline.com has exclusively learned the "Timber" singer's team had also become concerned with her drinking habits and she will be seeking help for that as well.
As a pop star who has basically based her career around the hard-partying lifestyle and songs that featured lyrics about boozing, the alleged drinking problem doesn't come as a surprise to those close to her.
Article continues below advertisement
"But in recent months, those closest to her had become increasingly worried about her drinking. It's been the stuff of legend in the past and she's never hidden the fact that she loves to drink," a source close to the situation told Radar.
"Now, though, part of her bid to get healthy is to get completely healthy — and that will involve looking at her abuse of alcohol. Some of her advisors had raised this in the past."
In the first big hit Ke$ha had, "Tik Tok," the 26-year-old bragged about brushing her teeth with Jack Daniels, admitting it was more than just a song lyric.
"Jack Daniels is an anti-bacterial and it's way better than morning breath. Let me put it this way, if you wake up naked in a bathtub and you have the choice between rinsing out with Jack Daniels or trying to make out with some dude with morning breath, I would recommend picking up the Jack," she told Vanity Fair in 2011.
Article continues below advertisement
And just last year the outspoken singer was photographed sitting on the sidewalk in Venice, Calif., drinking a Budweiser beer from a plastic bag — perhaps another reality from her lyric in the song "C'mon" that says, "Sippin' on a warm Budweiser."
Ke$ha has been outspoken about living the binge-drinking lifestyle, saying in a 2012 interview, "If men can talk about drinking in every awesome rock 'n' roll song and every awesome rap song, why can't a woman? Just because I drink doesn't mean I'm a drunk. Just because I have sex, and I'm not embarrassed doesn't mean I'm a whore. If men can do it, why can't a woman do it?"
In April an eyewitness spotted Ke$ha getting wild at a gay bar in Venice and exclusively told Radar, "Ke$ha looked as trashy as ever on her date with her lady friend… She came in, ordered a couple drinks – Makers Mark on the rocks — and hung out just like one of the regulars."
Among other things the singer sips on: her own urine.
Last May during an MTV special featuring Ke$ha, she drank her own urine as part of an experimental health kick.
Article continues below advertisement
"I heard it was good for you. That was, like, the rumor. But I don't know. I'm also just one that doesn't shy away from things," she told The Hollywood Reporter at the time.
"I'm not good at saying 'no' so I just figure, f**k it, I'll try anything once. So I tried it. I wouldn't recommend it. It was pretty gross. And I don't think it really did anything very beneficial to me so, yeah, I wouldn't probably do it again."