Ke$ha's Mom Blames Music Producer Dr. Luke For Daughter's Eating Disorder Battle, Claims He Called Singer 'A F**king Refrigerator' On Video Set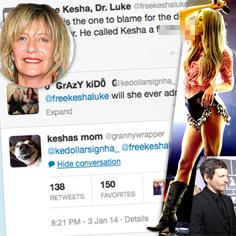 Immediately following Ke$ha's entry into a rehab facility for an eating disorder, the "Tik Tok" singer's mother is on the offense, blaming music producer Dr. Luke for her daughter's battle — claiming he called her "a f**king refrigerator" on the set of a music video shoot, and RadarOnline.com has all the details.
Ke$ha's mom, Pebe Sebert, took to Twitter over the weekend bashing Dr. Luke, real name Lucasz Gottwald, in response to fans that blamed him for the singer's eating disorder.
Article continues below advertisement
Ke$ha, 26, signed with Dr. Luke's label in 2005 and then signed a new deal in 2009 with RCA Records under his imprint, but by 2012 the two were said to be having creative differences.
"Luke is the one to blame for the development of Kesha's eating disorder. He called Kesha a f**king refrigerator on the set of Die Young," one fan aptly named Free Kesha, Dr. Luke, wrote on Friday.
"Will she ever admit that?" one fan asked, to which Ke$ha's mom chimed in with a definitive, "YES."
Telling Ke$ha's followers, called Animals, that "the truth will set her free," she alludes to bullies being to blame.
"AND WE WILL BEAT THE BULLIES UP!!" Sebert tweeted on Dec. 28, just days before her daughter entered rehab.
Dr. Luke is responsible in whole or part for chart-topping songs like Kelly Clarkson's "Since U Been Gone," Flo Rida's "Right Round," Avril Lavigne's "Girlfriend" and Katy Perry's "California Gurls" and "I Kissed A Girl."
RadarOnline.com reached out to Dr. Luke for comment but got no response at the time of publication.
Ke$ha is being treated at Timberline Knolls rehab facility in Lemonte, Ill., the same center Demi Lovato did a stint in 2010 to deal with her eating disorder and emotional issues.
Do you think pressure to stay thin in the music and entertainment industry is to blame for Ke$ha's eating disorder? Sound off in comments below…