Exclusive
Off The Wagon: Boozy Kelly Osbourne 'Obnoxiously' Heckles Joan Rivers During Stand Up Show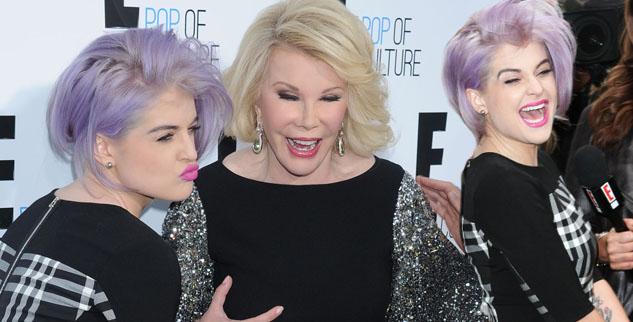 Joan Rivers has had to deal with her fair share of hecklers over the span of her 55-year career.
But when it came to a sell-out crowd at the Saban Theater in Los Angeles on Jan. 17, the "Queen of Comedy" had one of her more "obnoxious" annoyances -- her E! Fashion Police cohost Kelly Osbourne.
Unashamedly boozing it up, 29-year-old Osbourne -- who last August admitted that she had gone to rehab seven times -- caused quite the ruckus in the audience, an eyewitness dished to Radar.
Article continues below advertisement
"Kelly and her friend ran down from their seats that were further back, but Joan wouldn't let her sit in the seats. She said 'No, no one that I know.' So Kelly and her friend ended up sitting a few rows back."
As Rivers told her raunchy jokes to the crowd -- including one about Kim Kardashian's seven month-old daughter -- the recently single Osbourne began "heckling her," the onlooker told Radar.
Said the source: "Kelly was yelling things out to Joan during the show when no one else was and she was throwing her hands up in the air. She was doing it obnoxiously. Everyone around her thought she was drunk."
After the show, a second eyewitness described seeing her "banging on the door to get backstage after the show.
"She grabbed her friend as she was leaving and was hanging onto him, it seemed so obvious that she had been drinking," added the spy.