Exclusive
Ke$ha's Backstage Tour Rider Exposes How She Was Barely Eating — But Drinking Tequila, Vodka & Wine At Each Gig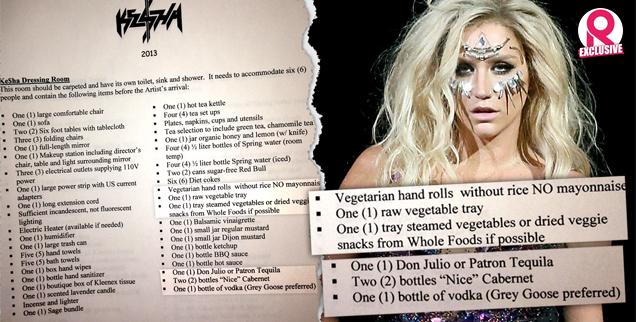 Ke$ha made a slew of backstage demands for a series of concerts last year and her tour rider, presented to promoters, reveals just how little the pop star was eating.
RadarOnline.com exclusively got hold of the document which details the 26-year-old "Timber" singer's wish list in the months before she checked into rehab to battle an easting disorder — from dressing room accommodations such having her own toilet, sink and shower, to a scented lavender candle and incandescent, not fluorescent, lighting.
Article continues below advertisement
But Ke$ha's food requirements were even more specific if not scant:
* Vegetarian hand rolls without rice NO mayonnaise
* One (1) raw vegetable tray
* One (1) tray streamed vegetables or dried veggie snacks from Whole Foods if possible
Ke$ha's alcohol requirements for the show included a bottle of Don Julio or Patron Tequila, two bottles of "Nice" Cabernet and one bottle of vodka — Grey Goose preferred.
As RadarOnline.com previously reported, the Tennessee-native checked into Timberline Knolls in Illinois earlier this month — after revealing she'd found "loving yourself… hard to practice."
A source revealed the pop star is also secretly battling a booze habit.
Speaking exclusively to this website, Ke$ha's mother revealed her daughter was battling bulimia and had once been ordered to lose 15 pounds in a month.
Article continues below advertisement
Pebe Sebert said: "She had an advisor who told her he had a meeting with a record company and they said she better lose 15 pounds in the next 30 days. He told her he didn't care if she shoved her hand down her throat or took illegal drugs, but she had to lose the weight.
"Everybody in the industry has thrown up! Ke$ha's been in the bathroom with other celebrities throwing up."
She also blamed Ke$ha's producer Dr. Luke, real name Lukasz Sebastian Gottwald, for her downward spiral — a claim he denied late Thursday.
"These statements and allegations concerning Dr. Luke are completely false," a spokesperson said.
"It is unfortunate that at a time Ke$ha is suffering immensely and trying to heal at a treatment center, her mother is taking this approach with the media. I give Ke$ha my utmost support and well wishes for a quick return to health."