Jude Law BETRAYED: Lawyers In Phone Hacking Case Tell Actor Family Member Got Paid To Spill His Secrets About Sienna Miller Affair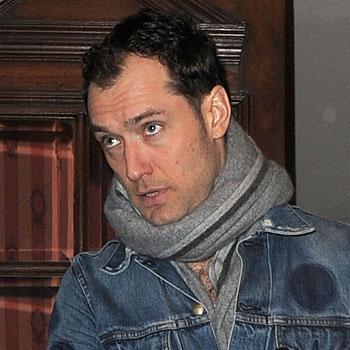 Jude Law has a mole in his midst. The actor was confronted with the bombshell news that a family member sold stories about him and ex-girlfriend Sienna Miller to a British newspaper when he appeared in court in London today as part of the ongoing News Corporation phone-hacking trial.
Former editors of Britain's News of the World have been accused of secretly hacking various celebrities' phones for information about their private lives, and Law was present to testify about an October 2005 story that revealed then-girlfriend Miller was cheating on him with Daniel Craig.
Article continues below advertisement
Law told the court that the paper's story -- alleging that he had called Craig to confront him about the affair -- was entirely true. As to how the paper got the story, Law claimed he was "shocked to see the amount of information accumulated" by the paper's staff, but "Sadly, it did not surprise me …"
It was not until August of last year, he told the court, that he found out a family member had been leaking information to News of the World.
But when the paper's attorney revealed in court that that person had been paid, Law said, "I've never been aware of that; of anyone getting paid for that."
In a dramatic scene, the attorney wrote the snitch's name on a piece of paper and handed it to Law, asking if he had known that person was getting paid to spill about his private life.
According to The Guardian, Law "did not flinch when he unfolded the paper," but said, "I was made aware very recently that there had been some kind of communication with this person … I was never aware any money changed hands until today."
Law also told the court that when police confronted him with the news that his phone had allegedly been attacked by the paper, they played voicemail recordings for him in which he recognized his own voice leaving messages for his children's nanny.
Other celebrities, including Angelina Jolie, are expected to testify as the trial continues. Stay tuned to RadarOnline.com for the latest from court.