Exclusive
Secrets Suppressed? Rupert Murdoch Tries To Have Angelina Jolie's Ex-Stunt Double Phone Hacking Lawsuit Tossed Out Of Court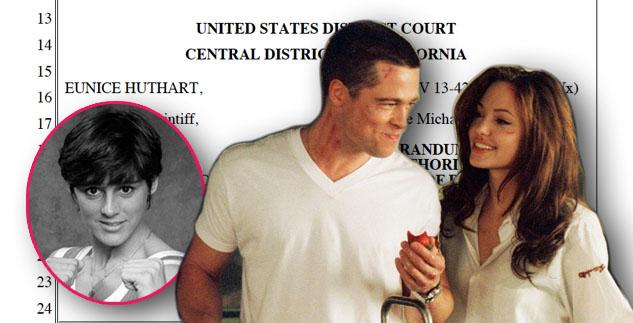 Brad Pitt and Angelina Jolie's secrets could be saved from being spilled in a courtroom if Rupert Murdoch prevails in having a phone hacking lawsuit tossed, RadarOnline.com has learned.
The British-based former stunt double of Jolie, Eunice Huthart, launched legal proceedings against Murdoch's media empire in June, alleging her mobile phone messages were intercepted by the now defunct News of the World and The Sun newspapers.
Article continues below advertisement
As scandalous as those charges were, her initial filing also revealed salacious details about how Jennifer Aniston's then-husband Pitt secretly checked into a hotel with Angelina Jolie — posing as a married couple.
In any trial, the love life of the famed couple and how they carried on a secret romance on the set of the 2005 film Mr. & Mrs. Smith would inevitably be subject to exploration.
But in a lucky break for Pitt and Jolie, Murdoch's News Corporation has formally asked a judge to dismiss the suit, arguing Huthart, a British citizen and resident, should have filed the claim in the United Kingdom.
"Plaintiff's claim too should proceed in the UK, if anywhere," lawyers for News Corporation write in documents obtained exclusively by RadarOnline.com.
"Plaintiff does not allege that any of the claimed tortious acts occurred in the United States nor that the U.S. entity engaged in wrongdoing… the Court should dismiss the complaint on the grounds of lack of personal jurisdiction and failure to state a claim."
Article continues below advertisement
The documents also reveal that if the lawsuit is dismissed in Los Angeles and Huthart opts to refile in England, News Corp won't object to any potential legal statute of limitations which may have since lapsed.
A judge is expected to rule on the matter in a hearing scheduled for January 6, 2014.
Huthart is also the godmother of Pitt and Jolie's daughter Shiloh.
The legal maneuver comes at the same time that the alleged architects of the phone hacking system, Rebekah Brooks and Andy Coulson, face criminal charges in a British court.
On Thursday, it emerged the pair also carried on an illicit affair.
A prosecutor revealed how their affair was uncovered by police who searched Brooks' home and found a letter – "intelligent, elegant and well-written" – she wrote to Coulson in 2004.
"You are my very best friend, I tell you everything, I confide in you, I seek your advice, I love you, care about you, worry about you, we laugh and cry together," Mrs Brooks wrote. "Without our relationship in my life I am not sure I will cope."