Exclusive
Not So Fast, Teresa! Federal Prosecutors Move To Dismiss Giudice's Request For Her Own Fraud Trial Separate From Husband Joe In Scathing 47-Page Motion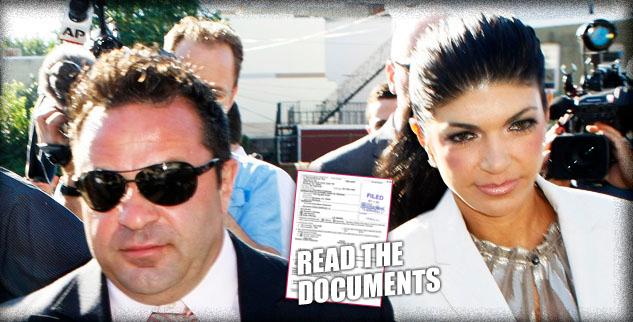 Teresa and Joe Giudice are going down together, if federal prosecutors have anything to say about it. Joe and Teresa had filed motions asking for separate trials as the two face 41 federal fraud charges. But according to court documents obtained by RadarOnline.com, on Wednesday federal prosecutors fought back with a blistering 47-page memorandum demanding that her request be denied.
"Teresa and Joe appear to share the hope that each may have a better chance of acquittal in a separate trial … " the documents claim. "This, however, is not sufficient basis to sever two defendants charged as participants in the same conspiracy and fraudulent scheme."
Article continues below advertisement
The couple's requests for a separate trial was based on the notion of marital privilege, which says that a spouse can opt not to offer testimony incriminating their spouse. If she and Joe had separate trials, the couples claimed, they would be better able to defend themselves. But according to the memorandum, prosecutors insist that opting to testify at all automatically disavows the Real Housewives of New Jersey stars of that right.
"Teresa''s decision as to whether to testify might be a difficult one under the circumstances," the documents read, "although this is only guesswork given her failure to make any proffer as to what she might say and how it might impact her husband. Even if so, however, such difficulty does no infringe upon a fundamental right, and it manifestly does not require the Court to hold two separate trials on identical offenses for the sake of preserving marital harmony. Defendants' motion on this basis thus must be denied."
Article continues below advertisement
Meanwhile, Joe has claimed that he needs a separate trial because he wants to testify in support of Teresa, but without simultaneously implicating himself. But the prosecutors point out that Joe "is conspicuously silent, however, as to whether his intention holds regardless of which trial is held first and regardless of its outcome. If Joe will only testify at Teresa's trial if he is tried first" thereby insuring what he says doesn't affect his own trial, then his offer, prosecutors suggest, is obviously self-serving.
Article continues below advertisement
What's more, the documents claim, "It has long been known to both the government and the defense that in some instances, the Giudices obtained fraudulent mortgage loans in Teresa's name by having someone else sign for Teresa at closing … However, it is also true that the Giudices obtained many other fraudulent mortgage loans with Teresa's direct participation, including instances in which Teresa signed the fraudulent loan documents herself, and it is on the basis of those loans that she is charged with conspiracy to commit mail and wire fraud and loan application fraud on the indictment."
As the icing on the cake of their request, they point out that Joe's testimony hasn't exactly been trustworthy in the past. "He has provided false testimony under oath on multiple occasions," one section reads. And there's no guarantee he would testify at all, since his lawyers has previously said he wouldn't.
For all these reasons, the documents claim, "each of Defendants' pretrial motions must be denied." In addition, prosecutors asked the judge to force Teresa and Joe's lawyers to hand over "photographs, books, papers, documents, data, photographs, tangible objects" relating to the case, which they have not done yet.
For all the latest on the trial, stay tuned to RadarOnline.com!