Exclusive
For The Love Of Wife: Joe Giudice Asks Judge For Separate Trial From Teresa, Claims She Had No Knowledge Of Alleged Criminal Activity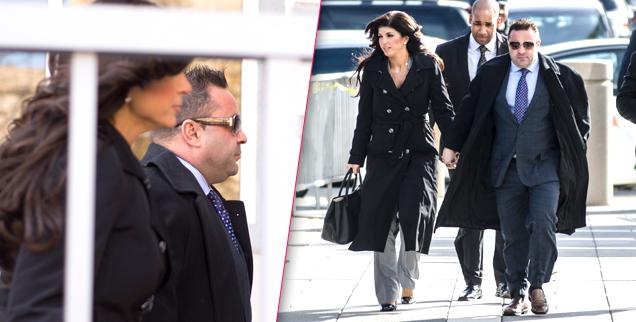 Article continues below advertisement
Joe argues that he is entitled to his own trial to allow the mother-of-four to invoke her right to testify on her own behalf and allow her the right to choose not to testify against her husband.
"Without an order severing the trials, she is placed in the position of choosing to testify on her own behalf and against her husband, or not testifying at all," per the documents.
GALLERY: The Giudice's 30 Most Shocking Quotes About Fraud & Finances
"Unquestionably, Mr. Giudice's conduct and anticipated testimony would be just as imperative to Teresa's defense. If the codefendants are tried jointly, and Mr. Giudice invokes his Fifth Amendment right, Teresa will be prejudiced."
According to the documents, if the trials are severed, Joe affirmed his willingness to testify as to Teresa's involvement in the alleged criminal activity and would testify that:
Article continues below advertisement
- Teresa had no knowledge of any misrepresentation on loan and mortgage applications and lines of credit.
- Teresa was not aware that various properties and businesses were acquired in her name.
- Joe signed Teresa's name on numerous occasions without her knowledge or permission.
- Joe's former business partner, Joe Mastropole, and Joe's attorney, Fred Roughgarden, signed Teresa's name on various documents, again without her knowledge or authorization.