Exclusive
Legally Lucky! Teresa Giudice's Hubby Joe's Fake Driver License Trial Postponed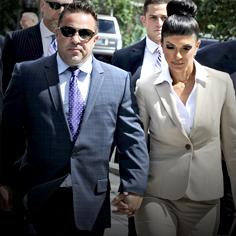 Article continues below advertisement
A source close to the situation told RadarOnline.com that the new date, first reported by NJ.com, for the fake driver license is "frustrating" for the prosecution.
GALLERY: The Giudice's 30 Most Shocking Quotes About Fraud & Finances
"The lawyers have been really successful is pushing the court date forward and now with the federal trial it is frustrating that this case is being postponed again."
Juicy Joe is charged with assuming the identity of his brother, Pietro, to obtain a driver's license after his was suspended and he made an appearance in court on May 28 where the prosecutor turned over brand new evidence that they believe will help convict star and land him in jail.
According to a source, the evidence includes video of Joe at the DMV obtaining a driver's license.
However, his attorney, Miles Feinstein, previously told RadarOnline.com that his client is a victim of his fame.
"As I've said from the beginning of this case, the plea and the charges in this case are disparate because of Joe's so-called 'celebrity,'" Feinstein said.
AND Joe was busted recently for careless driving in a school zone.
He faces up to 10 years in prison if convicted of the driver license fraud charge and another 18 months if convicted of forgery, on top of the 25 years for the tax fraud and evasion charges.
That's a lot of jail time!