Exclusive
Now That's A Loyal Wife! Teresa Giudice Might Testify For Hubby Joe At Upcoming Fraud Trial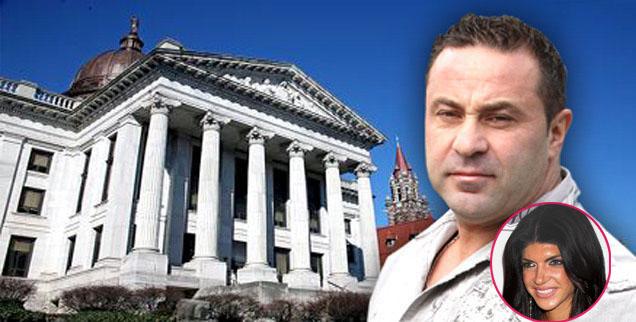 Joe Giudice is headed to trial for driver license fraud, and RadarOnline.com has exclusively learned that he might be pulling out the big guns for his defense by calling his wife, Teresa Giudice, to the stand!
The Real Housewives of New Jersey star is headed back to court once again on February 25 for a status update hearing where the judge will determine a trial date, but Giudice's attorney says he has a rock solid defense, which he vows will prove the innocence of his client, and Joe's outspoken spouse could prove to be the star witness.
Article continues below advertisement
"Teresa could be a witness," Miles Feinstein exclusively tells Radar. "But everything she would say would be positive for Joe."
As previously reported, authorities charge that Guidice assumed the identity of his brother, Pietro, in June 2010, in order to obtain a driving license after his own was suspended following a DWI five months earlier. Officials claim as part of the application Joe fraudulently used his younger brother's marriage and birth certificates.
The alleged ruse was uncovered after Pietro was stopped by police in March 2011 and Joe's image came up as the result of the officer's computer search.
Feinstein also says Juicy Joe WILL be in court with him on the day and that they're ready with their argument.
"We are going to trial," the attorney vows. "These charges and the threat of state prison are ridiculous for this event. I've said it all along, but it is because of Joe's celebrity status that this hasn't been resolved already."