Exclusive
Turncoat: Charlie Sheen Now 'Fully Supportive' Of Drug-Troubled Ex-Wife Brooke Mueller Regaining Custody Of Twin Sons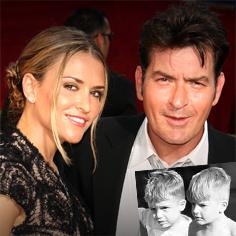 Charlie Sheen is making a change in position almost as big as the atomic bomb was a turning point in modern history.
The Hollywood megastar — having previously called his third ex-wife Brooke Mueller an "Adderall snorting husk" — is now fully supporting her bid to regain custody of their troubled twins, Bob and Max, aged four, RadarOnline.com has learned.
A source revealed: "Charlie is now signaling that he is supportive of Brooke reinstated as the boys' primary caregiver. He's changed his position since Brooke allowed him to see the twins last week. He plans on filing legal documents in child dependency court in which he voices his support for Brooke."
Article continues below advertisement
As we revealed, a fragile peace broke out between the pair after the serial rehabbed socialite Mueller, 36, allowed her ex-husband Sheen, 48, to visit their twin sons last week.
Bob and Max spent two hours with their dad and his porn star girlfriend last Tuesday night, a sudden and surprising twist in their bitter custody war during which Sheen said Mueller was a danger to the children.
It also coincided with the breakdown of Sheen's "Modern Family" relationship with second ex-wife Denise Richards, who he blasted as a "pig" and "media ho" in a degrading Twitter tirade.
As RadarOnline.com revealed, one of the reasons for Mueller's change in position, according to a source, was because she was "desperate" to have $55,000 in child support re-instated after it was slashed in half when she lost custody of the boys in the wake of being placed on an involuntary psychiatric hold after a drug overdose in May.
In the wake of Mueller's rehabilitation, Richards, 42, took custody of Bob and Max until she relinquished custody because of what she said was their worrying transformed from "kind and loving" young boys to "zombie-like" individuals who exhibit "extreme violent mood swings " and "violent behavior."
Meanwhile, Mueller "is seizing on the good will Charlie has towards her right now, because she knows at any minute it can change. She just wants her sons back and wants to move back into the house with them full-time," the insider explained.