Exclusive
Macabre Memorial: 'Fast & Furious' Fans Stage International Drag Races In Memory Of Paul Walker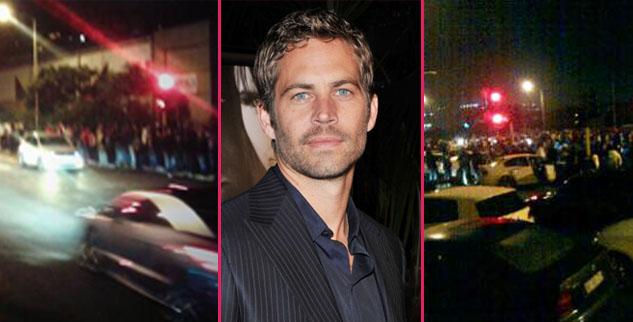 Only hours after Paul Walker's shocking death on Saturday, tributes to the Fast & Furious' star sprouted up across the Internet and around the world. But rather than see his death as a tragic warning to hit the brakes, RadarOnline.com has learned that racing enthusiasts around the world are staging dangerous memorial drag races dedicated to the actor whose need for speed proved fatal.
In Durban, South Africa, where illegal drag racing is a "huge problem," according to local media, enthusiasts staged a massive drag meet on Sunday night and posted tributes on Twitter, bragging in the face of the authorities:
Article continues below advertisement
In Jacksonville, Fla., Twitter user Jordan Smith reported a sighting of "4 drag racing cars going down Interstate 295 in one line … with their hoods off, and they said RIP Paul Walker."
Police have also reportedly had to contend with drag racers paying their respects at Walker's crash site by doing dangerous donuts and burnouts on the road where he died. Other memorials have been less life-threatening. Texas Imports hosted a massive car meet in memory of Walker and the man who was driving his car, Roger Rodas, in San Antonio.
And in New Jersey, drag enthusiasts reportedly met up at the Garden State Plaza Ikea late Sunday night to pay tribute to the star.
Similar gatherings are planned across the country over the next week.
A new development in the investigation into Walker and Rodas' crash has the Los Angeles Sheriff's Dept. revealing that eyewitness statements taken say "the car involved was traveling alone at a high rate of speed."