Friend Reveals How Paul Walker's Anguished Girlfriend 'Collapsed' When Told He'd Died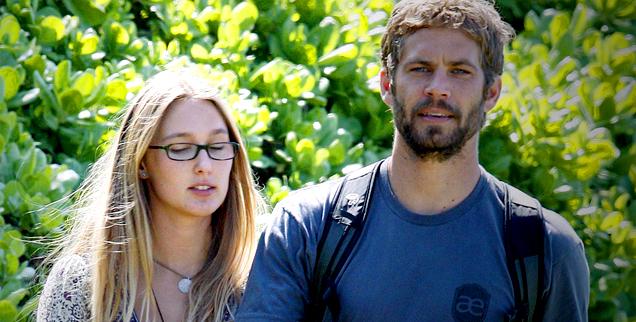 Paul Walker's girlfriend collapsed when she heard the news of his death.
The Fast & Furious star died in a crash after a charity car show in Santa Clarita, Calif., on Saturday and his girlfriend, Jasmine Pilchard-Gosnell, was so shocked fell when told the news.
Jim Torp, an engineer at the Reach Out Worldwide charity, was with Jasmine when his son called to tell him of the accident.
He said: "I got a phone call from him and he said it didn't look good, that from the looks Paul and Roger didn't make it. Paul's girlfriend was standing next to me when I got the phone call. When I told her what happened she fell, she collapsed."
Article continues below advertisement
Jasmine, 23, is said to be in "so much anguish" following the accident and is being comforted by her mother.
Meanwhile, one of Paul's childhood friends, known as Nute, had to be restrained by officers as he tried to save his friend and Roger Rodas - who also died in the crash - when he arrived on the scene.
Nute was said to be so overcome with emotion he punched a firefighter and was temporarily placed in custody, but he was later let go when the full horror of the crash became apparent.
In an interview in August, Paul had talked about the things he wanted to do achieve in his life, speaking of his passion for marine research and his relationship with 15-year-old daughter, Meadow.
He said: "It's so funny, my daughter now lives with me full time and my original plan was to work up until I was 40 then reassess my life.
"She keeps encouraging me to do all this stuff. I thought at this point in my life I would need to be home with her, but she wants me to keep acting so she can travel around the world with me. Would that be so bad?"
Among tributes flooding in for Paul was a song dedicated to him posted by his friend, music producer RZA.
He said, "This song, entitled 'Destiny Bends', was written last night after hearing the tragic news of the loss of a good man named Paul Walker. I met Paul on the set of the film 'Brick Mansion,' where we talked, laughed, and exchanged ideas of life and fatherhood."