Kirstie Alley Insists: 'I Don't Do Fillers Or Botox ... You Don't Know What It's Gonna Do To You!'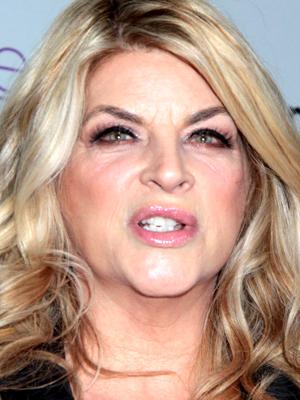 Kirstie Alley is 62 years old, single, and appearing on HD television sets across the country in her new sitcom, Kirstie. Still, the outspoken actress insists that she has never gone under the knife.
"I don't have any surgery," she insisted to Howard Stern on his radio show Wednesday. "…I don't think you should be filling your face. I don't do any of it."
"And I don't do Botox," she continued, "because don't you just think in the next 15 years, there's gonna be a discovery that injecting botulism could have an effect? … You don't know what it is. And you don't know what it's gonna do to you, or where it's gonna migrate …."
Article continues below advertisement
Discussing other actresses who have admitted to facelifts, like Courtney Love, Janice Dickinson, and Kathie Griffin, Alley said, "When you have facelifts, that's major surgery! It's not minor."
Still, resisting the temptation to join the tide of Hollywood plastic surgery enthusiasts hasn't been entirely easy. She admitted, "I've debated … For 30 years! The first job I had, for Star Trek, the cinematographer said, 'You might want to do something about your eyes, because they're a little bulgy. They're a little baggy underneath."
"And then over the years, I started looking at children," she continued. "Children's eyes are always sort of baggy here! … They have the bags under here. They're sort of poochy under here. So I just started thinking, I'm gonna look at what youth looks like. And most of what youth looks like is happy! People are happy, and they have energy and they can move."
That realization was a huge motivating factor, she says, to lose nearly 100 pounds in 2011.
What do you think: Does Kirstie look great or should she freshen up a bit with fillers or Botox? And do you believe that she's always been totally natural? Let us know in the comments!