Jane Leeves: 'Meg Ryan Destroyed Her Career With Plastic Surgery' And So Are Other Stars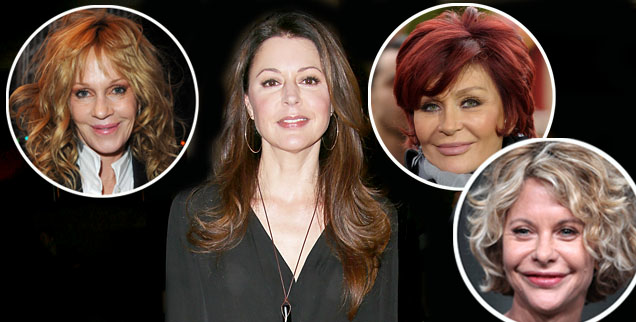 Jane Leeves is 52-year-old and doesn't care who knows it, and she wishes other women in Hollywood felt the same way.
"We all know who has and who hasn't" had plastic surgery, the Hot in Cleveland and Frasier star told the Daily Mail. "You can tell at 50 paces.
"I don't want to have some hideous surgery that is not even going to guarantee me any work and could make me unemployable."
That's what the plain-speaking Reeves said has happened to several top stars.
Article continues below advertisement
"Meg Ryan destroyed her career with plastic surgery," she told the Mail.
On Melanie Griffith's infamous trout pout, she added, "they never look right on somebody who's not born that way. It always looks weird.
Sharon Osbourne, the fellow Brit said, has "that shiny look...the skin is stretched so much."
The married mom of two also gave props to a few Hollywood legends who are aging gracefully.
"I can't imagine Meryl Street getting Botox," Jane said. And look at Helen Mirren. She looks great and men find her sexy!"