Exclusive
Katie Holmes Could Be Deposed In Tom Cruise's $50M Libel Lawsuit Over Suri 'Abandoned' Claim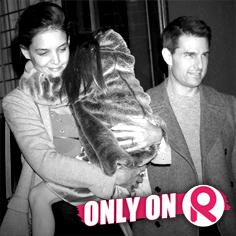 Article continues below advertisement
A source connected to the case told RadarOnline.com: "The decision hasn't been made yet. It's certainly possible. A decision is likely to be finalized in the next few months."
As RadarOnline.com was first to report, Cruise has already admitted under oath that Holmes, who turns 35 next week, filed for divorce at least in part, so that she and her daughter Suri could leave the Church of Scientology.
If Holmes were to be deposed, a source said, at the centre of any interrogation would inevitably be questions about whether she believed her ex-husband "abandoned" their daughter after their divorce — the claim that he is suing the Bauer publications for, alleging they defamed him.
Cruise has steadfastly insisted he did not abscond from his role as a loving father, even though he was forced to admit that he did not see the seven-year-old for 110 days.
"Listen, when there is a divorce… things change," the angry actor defended in a deposition on Sept. 9 earlier this year. "It's not an ideal scene. It's not an ideal situation."
What's more, Holmes could be quizzed over what happened behind-the-scenes after she shocked her husband of five years and filed for divorce nearly 18 months ago.
MORE ON:
Celebrity Justice
Article continues below advertisement
RadarOnline.com exclusively obtained a series of emails in which the Hollywood action star's loyal team of lieutenants painted a damning portrayal of what took place.
Included in a cache of documents were sensational allegations of smear campaigns, the leaking private and sensitive information and even suggestions that Holmes set up staged paparazzi photos in an apparent game of one-upmanship.
Given that topic has been uncovered in the case to date, Holmes could have to address it in any deposition, a source suggested.
But any grilling could also present many legal obstacles for the actress who is believed to have signed a confidentiality agreement with Cruise, 51, as a part of their split.
A source close to the actor refused to be drawn on whether Holmes could be compelled to testify.