Exclusive
Justin's Grandfather Banned From Premiere After Criticizing Bieber's Behavior: 'He's Gotten Too Big For His Britches!'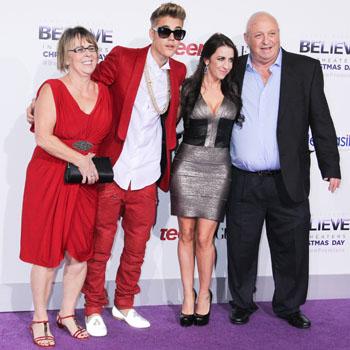 Justin Bieber's grandparents Bruce and Diane Dale couldn't have seemed more proud as they walked the purple carpet at the Hollywood premiere of Believe last night. But hundreds of miles away in Canada, it was just another weeknight for his paternal grandparents, George and Kathy Bieber. All but abandoned by their superstar grandson, they sometimes feel "he doesn't care," George has said. And some days, they barely recognize the man he has become.
Article continues below advertisement
Reached at his home in Mitchell, Ontario, George admitted that he would have liked to have attended the premiere in L.A. -- if he had been invited. As for his relationship with Justin, George sighed heavily before answering, "I really don't want to talk about it."
Just months ago, George potentially ended all hope for a relationship with his wayward grandson when he spoke out to bash his bad behavior.
"It's like we now live on different planets," George told the New York Daily News in April. "He never calls us, and now I sometimes think he doesn't care. It does make me sad, as right now our lives are pretty desperate."
"I can't work due to illness, so there is barely any money coming into the house," he explained. "His grandma has a bad back, too, but works like a dog hauling huge bags of paint powder 40 hours a week."
Bieber's maternal grandparents have thrived off his riches, but not so much for the paternal side, the pop star's paternal grandfather George said.
"For them, nothing seems to be too much trouble, and he buys them new houses, cars, luxury holidays, anything they want -- but for us, nothing."
Justin "has just got too big for his britches," George insisted. "He will always be my grandson, and I am and always will be so proud of him. It's just sad that he is not a bigger part of our life."