Exclusive
Justin Bieber Bodyguard's Heavy Handed Tactics Caught On Camera: Fan 'Harassed' & Has Cell Phone Confiscated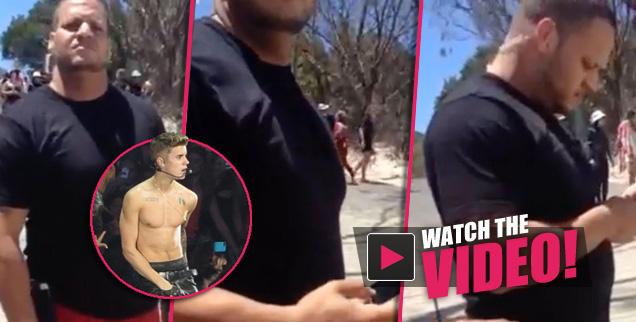 This is the moment Justin Bieber's overzealous bodyguards confiscated an Australian surfer's cell phone to delete photos of the teenage pop star riding waves on a local beach.
The incident took place last week at a crowded beach near Byron Bay in New South Wales where 19-year-old Bieber was taking surf lessons in between gigs on his nationwide tour.
Proving Bieber and his entourage think they're a law unto themselves, two heavy set security men reacted angrily when an onlooker began taking photos — a practice well within state and federal laws in Australia.
Article continues below advertisement
"I was surfing in Byron Bay at a break called The Pass," the young man, who did not want to be identified, told RadarOnline.com.
"When I was on my way back in, Justin Bieber and his entourage showed up. I simply thought I would take a few pictures for Instagram, but one of his bodyguards told me to delete the images.
"I told him to mind his own business, then another big bodyguard came up to me and assaulted me by wrestling my phone out of my hands.
"He took it and deleted my photos. Some other local surfers saw what happened and came to help me until I got my phone back."
On the video, the surfers can be heard protesting to Bieber's heavily-set men.
"It's about him and his free will, bro," one onlooker can be heard saying.
Said another: "What the f*ck? He can do whatever the f*ck he wants, man."
A third individual questioned: "What if he is just taking photos of the ocean and Justin Bieber just happens to be in it?"
That drew a response from one of Bieber's overbearing bodyguards, who responded: "You can do whatever you like and we're going to do our job as well."
Both security guards had American accents.
Once the "offending" images had been delated, the bodyguard handed back the phone and then moseyed off.
Said the victim: "It was a massive invasion. I don't know where that bodyguard comes from but this is Australia and people should feel free to go about their business without fear of being harassed."