Case Closed: Denise Richards Cleared In Child Abuse Investigation Triggered By Brooke Mueller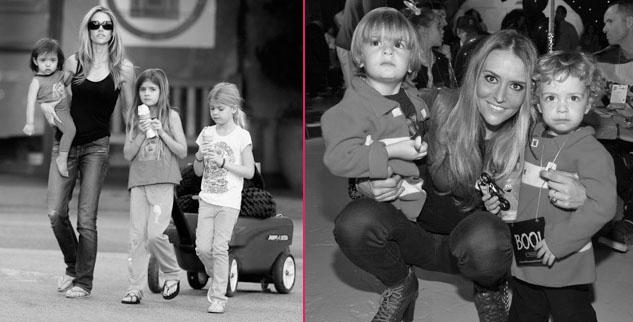 The Los Angeles Department of Children & Family Services have closed its investigation into allegations that Denise Richards abused her three daughters and the twin sons of ex-husband Charlie Sheen, RadarOnline.com has exclusively learned.
Richards, 42, was cleared after it was found she had no case to answer.
The probe was triggered after Sheen's third ex-wife, Brooke Mueller, called the Los Angeles Police Department on November 26 and sensationally alleged the Wild Things actress had been abusing the children.
Article continues below advertisement
"Child welfare officers quickly established that there was no merit to Brooke's claims and found that no follow-up investigation would be necessary," a source with knowledge of the outcome revealed to RadarOnline.com.
"The department, under California law, had to officially look into the claims. Denise was cooperative and had been scheduled to meet with DCFS for a follow-up meeting, but officials decided it simply wasn't necessary. It now won't be taking place. The case is closed."
Richards is the mother of Sam, 9, and Lola, 8, — and an adopted daughter, Eloise.
She was also, until recently, the custodian of Mueller's sons Max and Bob, 4, while their biological mother was being treated in rehab for a 22nd time after being held on an involuntary psychiatric hold.
It wasn't the first time drug-troubled Mueller had made allegations against her one-time close pal.
"Brooke had made the same abuse allegations against Denise during a contentious meeting between the two women with social workers last month," the source said.
Article continues below advertisement
"The department, at that tim, also took no action against Denise because it was established that the claims were baseless."
At the center of the dispute between the two women were images of Bob that were presented to DCFS which allegedly showed "injuries" the toddler had sustained.
Team Sheen turned them over, alleging that they were sustained whilst in the care of either Mueller or his grandmother; the latter had said Bob's face was in this condition when he'd left Richards' care.
Said a source: "In reality, social workers had heaped praise on Denise during many home visits when she had custody of the twins because she was doing such a great job with them.
"Denise was often told that the world could benefit from more people like her because of her selfless act of taking Bob and Max as their temporary guardian. It was evident to everyone involved in this sad case that Denise is a fantastic mother and would do anything for the children."
As RadarOnline.com has previously reported, Mueller's brother Scott is now the court-appointed temporary guardian for her the children after Richards told DCFS that she could no longer care for the boys because of their disturbing and violent behavior.
In a heartbreaking letter, Richards revealed that was no longer capable of caring for the boys in her home because they were violent with her daughters and had strangled, scratched, punched, slapped and kicked the girls in the face and head.