Exclusive
Explosive Meeting At Child Protective Services: Brooke Mueller 'Lashed Out' At Denise Richards, Had A 'Temper Tantrum'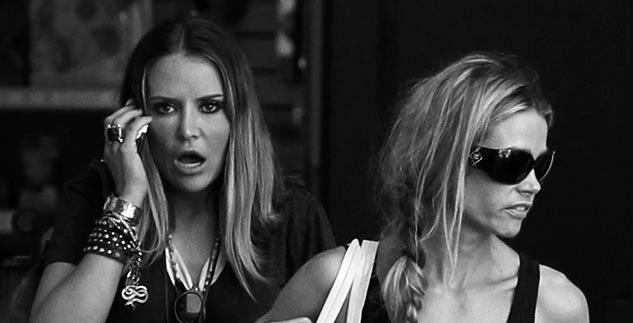 Denise Richards told the Los Angeles County of Department of Children and Family Services officials she wanted a smooth transition of temporary guardians, Bob and Max Sheen , back to their mother, Brooke Mueller, but RadarOnline.com has learned exclusively the rehabbing socialite was extremely combative during the meeting.
"Denise told the head honchos of of DCFS she just wanted a smooth transition of the twins back to their mother, Brooke Mueller. Officials were extremely impressed with Denise and her genuine concern and love for the boys.
Article continues below advertisement
"However, Brooke was extremely combative and lashed out at Denise. It came out of nowhere and was extremely inappropriate. It was probably the first time DCFS saw cracks in Brooke's previously cool demeanor. Brooke was having a temper tantrum because she felt Denise was making her look like a bad mother. Nothing was accomplished at the meeting, except for Denise maintaing that it was time for the boys to leave her house, but she wants it done with the help of the department so all of the kids have closure," a source told RadarOnline.com exclusively.
Article continues below advertisement
"With a heavy heart," Richards laid out the painful story of how the boys came to find refuge with her and daughters Sam, Lola and Eloise.
She detailed how recent contact with their mother, Mueller, had transformed them from "kind and loving" young boys to "zombie-like" boys who exhibit "extreme violent mood swings" and "violent behavior."
According to Richards, her daughters had been "strangled, kicked in the head and stomach, scratched, bit, slapped, punched in the face and head" and spat on by the boys, as have the family dogs.
"With no authority to make decisions on their behalf, I feel my hands are tied in providing them the proper help, support, and care that I feel as a parent that they need," the Wild Things star wrote.
In May, Richards gained temporary custody of Sheen's twins when Mueller entered rehab for the 22nd time because of ongoing drug use, fearing the boys were not safe in her care.