'An Eye For An Eye, Baby!': Blake Shelton Vows To Avenge Close Friend KILLED In Shocking Bar Fight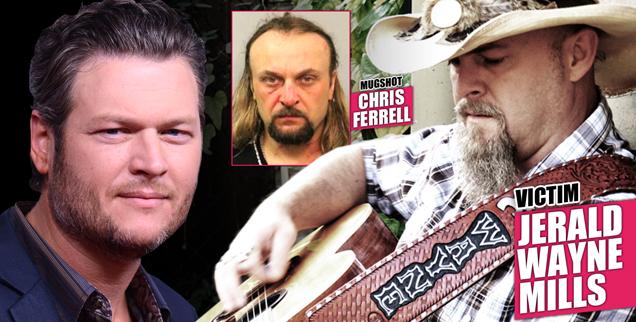 Blake Shelton may look like a big teddy bear, but now The Voice judge is riled up and vowing to find justice for a close friend who was brutally killed, according to a new report in the National ENQUIRER.
Shelton's friend and mentor, country artist Jerald Wayne Mills, was killed on November 23, when the owner of Nashville's Pit and Barrel bar, Chris Ferrell, allegedly shot Mills in the back of the head just before 5 a.m. According to the ENQUIRER, he and Mills had brawled after he caught Mills smoking in a non-smoking area.
Article continues below advertisement
Shelton had performed in front of Mills just hours before his death, so when confronted with the shocking news, a source tells the ENQUIRER, "At first, Blake was in shock … But now that he's had some time to process the news, his hurt and heartbreak is turning to seething anger."
And though he would love to take his anger out on Ferrell personally, the source says, he's instead decided to use his fame, fortune, and energy to spearhead an investigation into his pal's slaying.
"He's willing to testify or serve as a character witness for Wayne," the source explains. "Whatever it takes to help cops bring a homicide charge."
As for his wife, Miranda Lambert, she "is fully behind Blake," the source confirms. "She told her husband, 'An eye for an eye, baby. I'll support you through this nightmare.'"
So far, Ferrell has claimed self-defense. Since he had a valid permit to carry a handgun, he has not been arrested or charged with any crime. (He does have a mugshot for a past arrest for driving on a suspended license, which was later dismissed.)