Autopsy Results For Rachael Ray's Aunt Reveal Shocking Truth About How She Died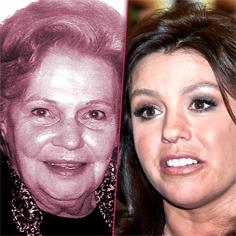 When the body of Rachael Ray's aunt, Geraldine Scuderi, was found in the driveway of the home she had been housesitting, angry family members insisted that if she'd only had a key to the home, and hadn't been locked outside in freezing temperatures, she could still be alive today. But RadarOnline.com has learned that autopsy results show a different story: Rachael's brother, Emmanuel "Manny" Ray tells RadarOnline.com exclusively that the family has learned Scuderi died from a heart attack, and not exposure to the elements.
Article continues below advertisement
"She died of a heart attack," Manny says the autopsy report concluded. "It wasn't exposure."
And despite the fact that Scuderi's daughter, Gina Mesnick, claimed the family had seen security camera footage showing Scuderi desperately fighting to get back in to safety, Manny says, "It was very, very quick."
"It wasn't quite what it's been blown out into being," Manny insists. "That's the culture that we live in. Not all the information gets out there."
But, he tells RadarOnline.com, the autopsy report has settled the story as far as he is concerned.
"Once we got more official reports from the professionals," he explains, "then you find out all these 'what ifs' don't matter."
Mesnick's speculation about her mother's death, and subsequent blaming of Ray's family for the tragedy, has been "upsetting," Manny says, explaining, "This is just one of those things that families go through."
Scuderi died on the day after Thanksgiving at Rachael's mom's home in upstate New York, where she was house-sitting, as the National ENQUIRER first reported. According to her daughter, Mesnick, she went outside around 4 p.m. to feed the birds, and was unable to get back into the locked home. Her body was found in the driveway the next day.
For more on this sad story, stay tuned to RadarOnline.com.