Exclusive
Rachael Ray Skipped Dead Aunt's Funeral For Work Commitments, Tweets About Cats, Stew, & 'Cake Boss' Instead!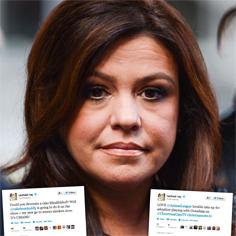 This holiday season, Rachael Ray's family has been dealing with a shocking tragedy since her aunt, Geraldine Scuderi, died on November 29 after being locked out of a home and exposed to the elements for hours. But instead of grieving with her mother, who lost a sister, and other relatives in upstate New York, Ray has thrown herself into work. RadarOnline.com has learned that she skipped Scuderi's funeral on December 5 to film an episode of her show, filling her Twitter timeline that day with posts about cats, stew, and Cake Boss nstead of any mention of her deceased aunt.
Article continues below advertisement
Ray's Twitter was silent on the day Scuderi's body was discovered, November, 29, as well as for two days after that. But on the day of the funeral, she observed no such moment of silence, nor did she post a message of remembrance for her aunt. Instead, while her family grieved in upstate New York, Ray was hard at work on her show, and her Twitter feed was full of information about cats, stew, and Cake Boss.
While the tweets could have been previously scheduled or penned by an assistant, they certainly had nothing to do with the difficult day that Ray's family members were experiencing upstate in Ticonderoga.
At 10:24 on December 5, just minutes before her aunt's wake would begin, a tweet was posted to Ray's account that read, "Could you decorate a cake blindfolded? Well @cakebossbuddy is going to do it on the show + my new go to winter chicken stew. It's UMAMI!"
Article continues below advertisement
A few hours later, when the wake and funeral would have just ended, a post on her Twitter timeline read, "LOVE @AnimalLeague lovable cats up for adoption playing with one on @Christmascatstv."
The next day, it was off to an appearance on QVC on December 6, followed by a book signing in Philadelphia on December 7, and one in Pittsburgh on December 8, before she was back to taping her show in New York.
Despite that busy schedule, a rep for Ray told the National ENQUIRER, who first broke the story of Scuderi's death, that Ray had been able to pay her respects privately.
Scuderi died on November 29 while housesitting at Ray's mother's house in upstate New York. She went outside to feed the birds around 4 p.m., was unable to re-enter the locked house, and was later found dead in the driveway.