Anderson Cooper Shares Cringe-Worthy Oral Sex Conversation He Had With His 85-Year-Old Mother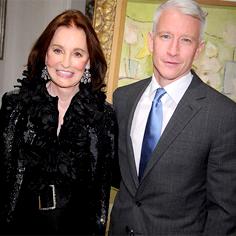 There are certain things most people would rather not discuss with their mother. Sex is one. Oral sex is another.
But CNN anchor Anderson Cooper not only did both -- he admitted it live on TV, talking about the time his then 85-year-old mother praised her lover's oral sex skills!
The cringe-worthy moment was revealed this week on his Anderson Cooper 360 show.
During a roundtable discussion the 46-year-old silver fox asked his guests to talk about their pick for the most scandalous story of 2013.
Article continues below advertisement
He said, "My mom once wrote a romance memoir about the men she had dated – and I use that term loosely.
"And she described one guy she was currently dating – my mom was 85 at the time – as the Nijinsky of cunnilingus and she made me proof-read the book. I was like, 'Mom, I don't know much about modern dance.'"
At which point Dan said, "Or cunnilingus…" which drew fits of giggles from the other panelists and openly gay Anderson himself.
In 2004 Anderson's mother published the book It Seemed Important At The Time: A Romance Memoir about her love life.
The book certainly left an impression on her son who later wrote about it in an article for Details magazine.
At the time he said that the oral sex story was "not really a visual image I wanted to have."
He added, "When I suggested she take the whole cunnilingus thing out of the book, she just laughed and told me I should have a sense of humor about it."