Exclusive
Alana Stewart: Farrah Fawcett & Ryan O'Neal Were Lovers Until She Died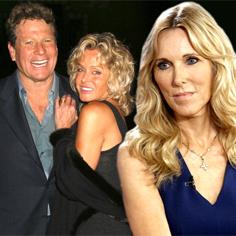 Longtime Farrah Fawcett friend Alana Stewart has testified that Ryan O'Neal was her lover and lived with the actress at her condominium in her final years.
Stewart, the 68-year-old former wife of both actor George Hamilton and singer Rod Stewart, contradicted testimony of two men in the art war trial over a missing Andy Warhol portrait, who have claimed the Charlie's Angeles star was not romantically involved with the Oscar-nominated actor at her death.
Article continues below advertisement
Last week, Craig Nevius, the producer of the Fawcett reality show Chasing Farrah, said he did not believe Fawcett and O'Neal were together when she died.
Another witness, Greg Lott, has claimed he and Fawcett were lovers for years up until the time of her death. As Radar has reported, Lott sat for a deposition in the case during which he alleged the pair had a secret 11-year affair behind the back of her long-time lover.
The pair was in a "committed relationship… exclusive," Lott testified, until her untimely death of cancer on June 25, 2009, at age 62.
"For the record … this was a romantic relationship?" a lawyer probed Lott during the deposition, a transcript of which Radar has exclusively obtained.
"Yes," responded Lott.
"A sexual relationship," questioned the attorney.
"Yes," responded Lott. "She saw no one else and I saw no one else but her."
Article continues below advertisement
Both Lott and Nevius were called to the stand by the university.
The University of Texas alleges O'Neal is withholding a Warhol original painting that was promised to the school by Fawcett, but he says in a countersuit that they should turn over items from Farrah's collection, including a napkin Warhol inscribed to him and the late actress.
In the witness box, Stewart recalled O'Neal and Fawcett each carrying a Warhol portrait of the actress while walking on Fifth Avenue in New York City after picking them up from the artist.
She said the scene was humorous because they were trying to hail a cab with the paintings tucked under their arms.
She argued O'Neal has ownership of the contention silkscreen.
Trial of the lawsuit is in its third week in Los Angeles Superior Court.