Dying Farrah Fawcett Told Nurse Ryan O'Neal Was 'Going To Take' Andy Warhol Portrait, Mystery Witness Testifies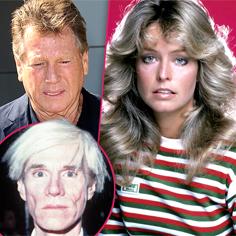 A former nurse who claims Farrah Fawcett told her that Ryan O'Neal owns one of two Andy Warhol portraits of the late actress can testify in trial  of the University of Texas' lawsuit concerning whether the school or the actor owns the painting, a judge ruled today.
After hearing testimony from Maribel Avila, Los Angeles Superior Court Judge William MacLaughlin said he was convinced she was not someone who could have been easily identified before trial by O'Neal's lawyers.
Article continues below advertisement
"She's the one who stepped forward and identified herself,'' MacLaughlin said.
The judge said the university's attorneys could either depose Avila before she testifies before the jury next week, or ask for a mistrial on grounds the school was prejudiced by her late entry into the case.
After consulting with his colleagues in the hallway, UT attorney David Beck said his clients would proceed with the trial and take Avila's deposition.
O'Neal's lawyer, Martin Singer, told MacLaughlin that Avila's recollection of Fawcett's remarks to her could not have been discovered and presented to UT lawyers until the woman recently came forward.
"We had no idea this woman had these facts,'' Singer said.
The school sued O'Neal in August 2011, after the disputed Warhol portrait of the actor's longtime love, mother of his son Redmond, was seen in his home during an episode of the reality TV show `Ryan and Tatum: The O'Neals.'
Article continues below advertisement
O'Neal says Warhol gave the second Fawcett painting to him. But lawyers for the university maintain the portrait is school property because Fawcett agreed through her living trust to donate all her artwork to the university, which she attended for three years in the 1960s.
Trial of the lawsuit is in its second week in Los Angeles Superior Court.
Fawcett died in June 2009 at age 62.
The six-man, six-woman jury also will decide whether a Warhol napkin drawing that O'Neal is demanding from the school through his cross-complaint belongs to him or the university.
Avila, testifying out of the jury's presence, said she worked for Fawcett from 2006-07, when the actress was in the early stages of her cancer diagnosis. At that time, Fawcett had her own Warhol portrait hanging in her condominium's living room and the one O'Neal claims is his at the entrance to her bedroom.
Avila said she told Fawcett she was impressed by the eye color and the portrayal of the actress' lips in the portrait near the bedroom..
Article continues below advertisement
"Let me tell you the story,'' the Charlie's Angeles  star said, according to Avila, who said the actress explained that Warhol painted one portrait her and the other for O'Neal.
"That's for Ryan and he's going to take it later on,'' Fawcett said, according to Avila.
"Avila testified she spoke from time to time with O'Neal when he visited Fawcett and was impressed because she had seen him on the big screen.
"When I was young I saw Love Story in my country,'' the native of Honduras said.
The actor testified he split time between his Malibu home and Facwett's condominium in her final years.
Avila said she read about the current trial in the New York Post last month while working as a nanny for her current boss, talent manager David Sweeney. She said she told Sweeney, and that he recommended she call O'Neal's lawyers and helped put her in touch with them.
MacLaughlin said UT lawyers can also take Sweeney's deposition.