Ryan O'Neal Admits To Taking Andy Warhol Painting From Farrah Fawcett's Home, After Her Death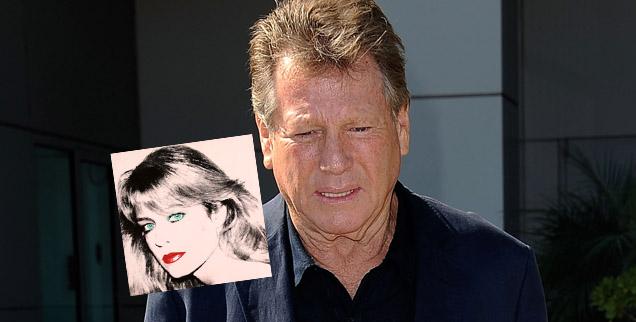 Ryan O'Neal, battling the University of Texas over an Andy Warhol portrait of his late love, Farrah Fawcett, testified that he removed the piece from her home "a week or more after" her death four years ago.
"The painting is mine," the 72-year-old Love Story testified in a Los Angeles court on Monday, as he continues his legal battle with the University of Texas at Austin over the 1980 image, which he's keeping at his Malibu, Calif. home.
Article continues below advertisement
The Academy Award-nominated actor is in dispute with the institution over ownership of the valuable work, as the school said the late beauty Fawcett made provisions for them, not O'Neal, to own the painting after her death.
Representing the school, lawyer David Beck grilled the actor about a 1997 incident in which Fawcett caught him in bed with a younger woman.
"That person that was in her -- in your beach house at the time was 25 years old, right?" Beck asked.
O'Neal later admitted Fawcett was "hurt … in shock … pitiful and disgraced" in the wake of the discovery.
He said the relationship eventually resulted in Fawcett taking back the painting because his new gal pal wasn't fond of it hanging in their bedroom, but not before she told him, "I'd like you to leave it there because I want to make her uncomfortable."
O'Neal said he was open about his wishes, to trustees, to take the painting back from her Wilshire Boulevard condo after the June 25, 2009 death of the Charlie's Angels beauty following a valiant battle against anal cancer.
Article continues below advertisement
"It wasn't a secret," he said, noting he had the painting at his Malibu house from 1980 thru 1998.
The trial hit an especially sad note Monday when O'Neal read an emotional letter Fawcett, who died at 62, penned to her son during the 2007 holiday season, following her cancer diagnosis.
The university has another Warhol painting of Fawcett, and wants to pair it with the one currently in O'Neal's possession. O'Neal said he doesn't plan on selling the immensely-valuable piece of art should he win the case, but will it to his son with Fawcett, Redmond. The feisty actor has countersued the school over a tablecloth Warhol made for Fawcett currently in their possession.
O'Neal's lawyer Marty Singer said he expects the actor to testify again in the trial at some point.