Exclusive
Ryan O'Neal's Private Trust Revealed In Art War Trial: He's Leaving His Entire Estate To Drug-Troubled Son Redmond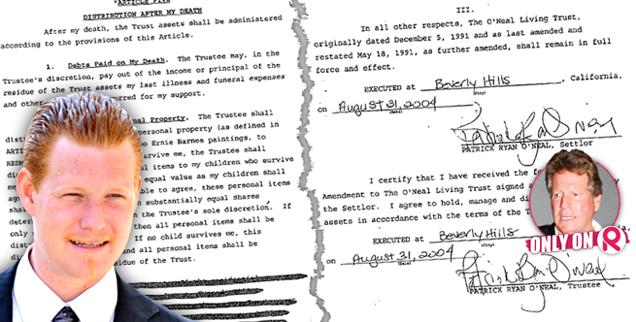 Article continues below advertisement
The trust was filed with the Los Angeles Superior Court and has been obtained by RadarOnline.com.
DOCUMENT: Ryan O'Neal's Private Trust
Tellingly, it could prove to be a crucial piece of evidence in the bitter court fight: Love Story star O'Neal fails to list the Warhol portrait, believed to be worth millions, that he's long insisted he has owned since 1980 -- this, despite the fact that he specifically mentions two other paintings that will NOT go to his son Redmond.
Redmond, the only son of O'Neal and Fawcett, is the only of the star's four children who are mentioned by name in the excerpts of the document.
Tatum, Griffin and Patrick — all of whom O'Neal has had tempestuous relationships with — are not identified in the trust.
"The Trustee shall distribute all of my tangible personal property, except my two Ernie Barnes paintings, to Redmond," the document, titled the Fifth Amendment To The O'Neal Living Trust, states.
Article continues below advertisement
"If Redmond does not survive me, the Trustee shall distribute all of these personal items to my children who survive me, in shares of substantially equal value as my children shall agree. If my children are unable to agree, these personal items shall be divided among them in substantially equal shares determined by the Trustee, in the Trustee's sole discretion. If only one child survives me, then all personal items shall be distributed to that child. If no child survives me, this distribution shall lapse and all personal items shall be distributed with the residue of the trust."
O'Neal also insists that all debts must be paid on his death, including any expenses associated with any possible illness he has and funeral expenses.
The document was first created on December 5, 1991. It went through a series of revisions and was last executed on August 31, 2004.
The battle over the Fawcett Warhol is expected to hit the Los Angeles Superior Court later this month.