Exclusive
Zac Efron's Gal Pal Lily Collins Nursing Him Back To Health After Breaking His Jaw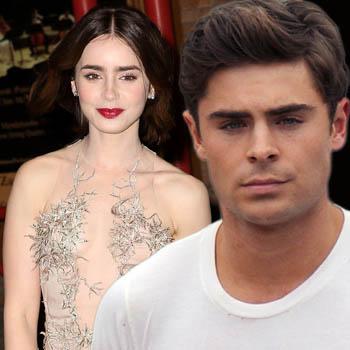 After taking an unlucky spill outside his Hollywood home and breaking his jaw, Zac Efron is being nursed back to health by his new girlfriend Lily Collins, RadarOnline.com is exclusively reporting.
Collins, 24, has remained steadfast by Efron's side during his recovery -- even making him smoothies and things he can eat through a straw since his jaw is wired shut.
"Zac is so grateful for Lily. She's being so sweet with him and is going above and beyond to take care of him," the insider told RadarOnline.com.
Article continues below advertisement
"She makes him healthy smoothies he can drink through the wire and she's really good emotional support for him right now."
In fact, Collins was spotted at Gelson's grocery store earlier this week picking out fresh fruits and veggies to mix up liquid goodness for Efron, 26.
As RadarOnline.com previously reported, Efron completed two stints in rehab earlier this year for a struggle with alcohol and the prescription drug, Oxycodone.
"If there were ever a time he might slip back to his partying ways, this would be a convenient time for him," the source said.
"But Lily is keeping him on track and gives a reason to want to stay sober."