Exclusive
Zac Efron Dating 'Perfect Match' Lily Collins: 'She's A Good Influence On Him; Doesn't Drink Or Do Drugs,' Spills Insider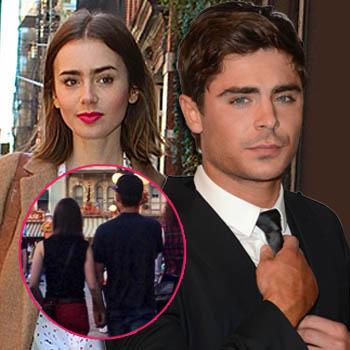 Zac Efron is taking a step in the right direction by dating actress Lily Collins, because RadarOnline.com has exclusively learned that the British beauty is a good influence on the newly sober actor.
Efron, 26, and Collins, 24, were caught holding hands and photographed by a fan while at Disneyland in California on Tuesday and an insider close to the couple tells RadarOnline.com they are quietly dating.
"Lily is the perfect girl for Zac to be dating right now. She's young, gorgeous and smart — but more than anything, she doesn't drink or use drugs," the source told RadarOnline.com.
Article continues below advertisement
"Zac knows if he wants to save his career and his life, he needs to stay sober and it's making his transition a lot easier to be dating someone like Lily."
But don't expect to see a lot of PDA between the couple, or mushy tweets exchanged, because Collins has stated in the past that she does not like to discuss her relationships publicly after witnessing the difficulties caused by the media coverage of her parents' separation.
Collins' parents are famous musician Phil Collins and his second wife, Jill Travelman.
"Lily knows how to handle the pressures of fame but she's also really smart with her decision-making," the source told RadarOnline.com.
"Zac is really thrilled to be getting to know her."
Compared to other rising stars like Lindsay Lohan and Mischa Barton, Collins told NYLON magazine last year she purposely never partied to avoid the downward spiral that so many others in Tinseltown find to be their fate.
"I never did do the whole drinking, drugs thing," she said. "That wasn't ever me and is never gonna be me."