Exclusive
Tom Cruise's Scientologist Sister To Be Deposed In Libel Lawsuit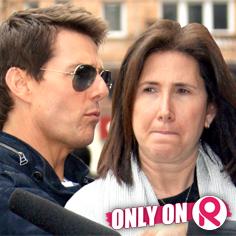 The sister of Hollywood megastar Tom Cruise will be forced to answer questions about her brother's parenting and split from ex-wife Katie Holmes as part of the bitter libel lawsuit against two magazines, RadarOnline.com has exclusively learned.
Lee Ann De Vette, a Scientologist and key member of the 51-year-old's entourage who once acted as his publicist, has been slapped with a subpoena by Bauer Media in a move to compel her to sit for the interrogation, multiple sources have confirmed.
Article continues below advertisement
Article continues below advertisement
Ultimately, that statement never went public because another lieutenant of the Top Gun star advised that any response would be couched as Cruise "caring enough about it."
"I don't agree that statements that say nice things from my mouth in stories that say false things paints T (Tom) in a more flattering light," publicist Amanda Lundberg responded to a chain of lawyers and De Vette.
"A very small percentage of people fly private jets and helicopters so I worry the statement below will cause some serious snark and keep this going."
Lundberg concluded: "My opinion is to say nothing."
In another email, Lundberg wrote to De Vette how she'd spoken to her opposite number on Team Holmes, in an effort to "calm this down" — referring to an onslaught of "negative" media coverage aimed at Cruise in the aftermath of the split from Holmes.