Inside Scientology's $145M Compound... Where Worshippers Of The Controversial Religion Will Be Trained To Develop 'Super Powers'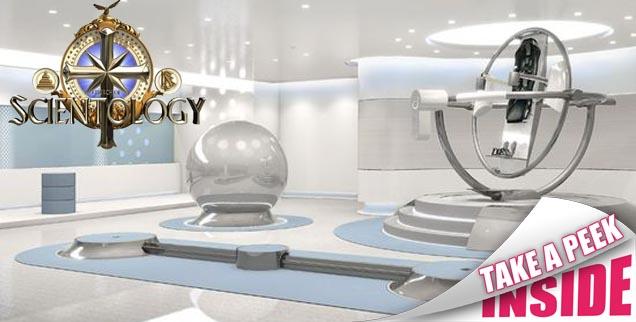 We're taking you behind the doors of Scientology's new $145 million Flag Building in Clearwater, Fla., where church members will have their first-ever chance at honing their "Super Power."
Church founder L. Ron Hubbard developed the program with hopes of creating "a new world" for his constituents by giving them extra perceptive powers via a slate of exercises for both the body and mind, enabling them with extraordinary sensory powers related to balance, gravity and temperature, among others. (Much of the details here come from the blogs of Scientology watcher Tony Ortega.)
Article continues below advertisement
Scientologists hadn't yet had the proper venue to hone their skills, but that is no longer the case, as the seven-story, 377,000 sq. ft Flag Building (also choc full of hundreds of high-tech classrooms and offices) has met the proper requirements Hubbard outlined when constructing the program more than 35 years ago.
With that in mind, lets take a look at some of the amenities Flag Building boasts:
In addition to a lobby and adjacent atrium with a detailed history of Scientology, the building has 300 rooms dedicated exclusively to auditing. The second floor is designed in an ultra-modern look, with a lounge and a book store. Plans drawn up indicate a structure called a "Time Machine" on said level.) A lavish theater resides on the third flood.
The fifth floor -- designated as the hub for the Super Power program -- consists of an opulent lounge for Key Contributors; special auditing rooms earmarked for the rich and famous; space age stations designated to perfect senses such as energy, magnetics and touch; and walls to measure smell and taste; and chambers to gauge sound. More visually exhilarating are the life-size gyroscope device; and insulated chambers to measure tension in muscles.
Article continues below advertisement
Hubbard, in his writings, called the program "a superfantastic, but confidential, series of rundowns that can be done on anyone whether Dianetic clear or not that puts the person into fantastic shape unleashing the super power of a thetan. This is the means that puts Scientologists into a new realm of ability enabling them to create the new world. It puts world clearing within reach in the future. It consists of 12 separate high-power rundowns which are brand-new and enter realms of the tech never before approached.