Church Leader's Niece Slams Barbara Walters For Defending Scientology's Education System, Calls Her 'Ignorant And Irresponsible'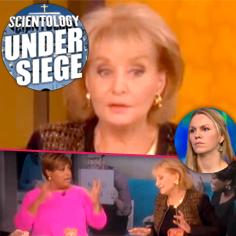 When Jaden Smith, son of rumored Scientologists Will and Jada Pinkett Smith, urged fans to drop out of school last weekend his tweets were discussed on The View on Tuesday and after Barbara Walters defended the church saying they have "a pretty good education system," the niece of church leader, David Miscavige, spoke out to slam the seasoned journalist.
"I'm not going to speak about Scientology in general, but Scientology has a pretty good educational program," Walters said. "They're not telling people to drop out."
Article continues below advertisement
But Jenna Miscavige Hill — who left the controversial organization in 2005 and released the explosive tell-all book, Beyond Belief: My Secret Life Inside Scientology And My Harrowing Escape — had appeared on the ABC show in February so co-host Sherri Shepherd pointed out, "Jenna said they pulled her out and put her in a camp," of the church's education system. "What kind of school is that? It's like it was a hard labor camp. She built the doggone…the huts that they lived in!"
Interestingly, Walters did not appear on The View the day Jenna was a guest.
"I have been to some of the Scientology schools and some of their education programs are very good," Walters said on Tuesday. "The last thing I want to do is to argue about Scientology."
But Jenna wasn't pleased with what she saw on the daytime talk show and gave the Church of Scientology watchdog website The Underground Bunker a statement entirely directed at Walters and it reads in full as follows:
Article continues below advertisement
With all due respect, saying that Scientology has a very good education system is an incredibly ignorant and irresponsible thing to say on your platform and for that reason I feel that I have to say something about it.
Without getting into the details of my childhood and the dangers of Scientology's education system I will say this. The leader of Scientology, Tom Cruise's best man, my uncle David Miscavige, is a high school dropout. What does that say about the value Scientology puts on education? Is this not what Jaden Smith is advocating?
As Sherri Shepherd rightly pointed out, I myself was born into Scientology. And instead of being properly educated, I was indoctrinated into Scientology and made to do heavy labor daily from the age of six years old. I have no high school education, and college was never even a vague possibility for me until I escaped.
Scientology values its "educational system" because of its ability to recruit new members into its ranks. I'm guessing it worked for Jaden Smith.
Article continues below advertisement
I don't know what propaganda you have seen or what your celebrity advocate friends have told you, but it's time to look a little deeper. If you don't want to know the truth (which I gather is the case from you saying you "don't want to talk about Scientology") then please refrain from praising a system you clearly know nothing about.
Although Scientology's educational system is one of its most disconcerting aspects because it involves children, it is just the tip of the iceberg when it comes to Scientology's deception and abuse.
Just last week, Walters tweeted with Cruise:
Around 1:08 in the clip from The View, you can clearly hear Shephard telling Walters, "Believe it, because they'll get you!"
"No, that's not true," Walters defended. "You just shouldn't say things like that."