Scientology Leader's Niece Spills Church's Secrets - Buckets Of Ice Dumped On Your Head For Being Late, Coerced Abortions & Manual Labor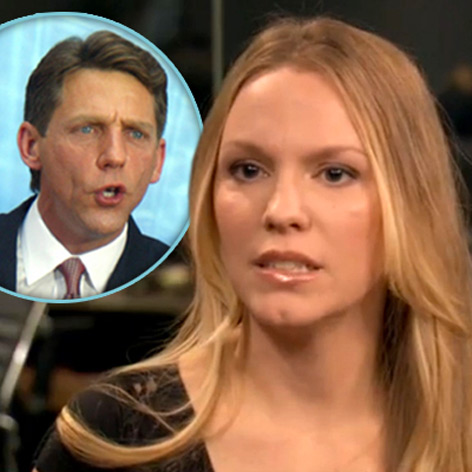 The niece of Scientology head David Miscavige continues to expose the shocking secrets behind the church and their operations in her new tell-all book and RadarOnline.com has details of Jenna Miscavige Hill's claims of manual labor, members having a bucket of ice water dumped on their heads and members being coerced into having abortions.
Jenna, 29, left the organization in 2005 but has penned the book Beyond Belief: My Secret Life Inside Scientology And My Harrowing Escape revealing what it was like to be a young child in the elite Sea Org. branch of the Church of Scientology.
Article continues below advertisement
Jenna claims she was mostly raised by other members of the organization, instead of her own parents — who were leaders in the Sea Org but left in 2000 when she was 16 years old — yet Jenna remained for another five years but was blocked by the church from communicating with her family.
"If you flunked your uniform inspection, sometimes if you were late… You would be dumped with a five-gallon bucket of ice water," Jenna told journalist Philip Recchia in 2008.
"We were also required to write down all transgressions…similar to a sin in the Catholic religion. After writing them all down, we would receive a meter check on the Electropsychometer to make sure we weren't hiding anything, and you would have to keep writing until you came up clean. This is from the age of 5 until I was 12."
In Jenna's book she claims the Internet and television is banned while at Sea Org so it wasn't until she was sent to Australia on a missionary trip by the church that she discovered the negative views on the Church of Scientology and particularly her uncle David.
Article continues below advertisement
Having children was also discouraged by Sea Org and Jenna told The Huffington Post she knew members that were coerced into terminating their pregnancies.
"If you do become pregnant when you're there, you get kicked out," she said.
"Or many of my friends were actually coerced into having abortions."
Since her escape from Sea Org Jenna has married (her husband was also a member of Scientology but also left) and they have two children together.
"I've struggled to see what was going on in their minds when I was a child but more than anyone I understand that when you're there you're being brainwashed," Jenna told The Huffington Post of her parents.
"We can't change the past. But my parents are unbelievably great grandparents. They love my kids. What better way to make up for something like that?"