Exclusive
Blackout Bid: Love Rat Ryan O'Neal Moves For Court Gag Preventing Evidence Of His Infidelities On Farrah Fawcett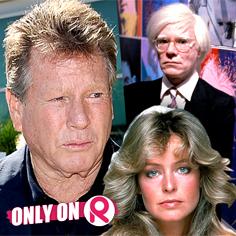 Ryan O'Neal has made an eleventh hour courtroom bid to muzzle lawyers suing him over the alleged theft of an Andy Warhol portrait, in a last-ditch attempt to prevent them from probing him and other witnesses about his infidelities on long-time partner Farrah Fawcett.
RadarOnline.com broke the story: Under oath in a court-ordered deposition as part of the art war trial, the 72-year-old Hollywood veteran has already admitted ex-lover Fawcett caught him in bed with another woman at his Malibu home!
Article continues below advertisement
"You and Miss Fawcett had a falling out in February of 1997, correct?" a lawyer asked the Love Story star in a 2012 interrogation as part of the case, pressing him to detail his sexual rendezvous with Leslie Stefanson, a young actress then in her twenties, who once starred with John Travolta in the 1999 film The General's Daughter.
"Yeah. We did," O'Neal coyly answered.
The lawyer added: "I'm not prying, but… Miss Fawcett found you in the Malibu home in bed with another woman?"
"She did," O'Neal responded, recounting how the Charlie's Angels star then "boxed a few things and sent them to me."
"I was so surprised,'" he added, "I was with her for 18 years. I only got four boxes, mostly shoes and videotapes."
Now — as the fight over the missing Warhol begins in a Los Angeles court on Wednesday — the Oscar-nominee and love rat is moving to have the cheating confession struck from the case and a blackout initiated.
Article continues below advertisement
In paperwork filed with the judge and obtained exclusively by RadarOnline.com, O'Neal's lawyers said any questioning about the "purported temporary break-up" between O'Neal and Fawcett in 1997 — or any other time — is "wholly irrelevant to this action."
It would smear O'Neal's character, invade his right of privacy and "could only serve to mislead the jury and unduly prejudice" the actor, they argued.
"O'Neal hereby does move for an order... precluding Plaintiff and Cross-Defendant The Board of Regents of the Univeristy of Texas System… from introducing any evidence, eliciting any testimony, or making any argument concerning O'Neals acts of infinity or otherwise commenting on the reasons behind any purprotered temporary reomancintic break-up between O'Neal and Farrah Fawcert," lawyers wrote.
"It is exepcted that Plaintiff will seek t introduce details of the circumstances of the purported temporary 1997 break-up at trial to smear O'Neal's character with the intent of improperly referring 'prior bad acts' to prove its case."
Article continues below advertisement
O'Neal's camp asked a judge to rule that any oral or written testimony from witnesses and attorneys and documents or arguments regarding O'Neal's "infidelity" be excluded.
"Here, the ultimate issue in this case is whether or not Ms. Fawcett owned the Warhol Portrait and whether O'Neal converted it in 2009," they argued.
"Evidence relating to why the couple may or may not have temporarily broken up in 1007, including purported details of the break-up which are highly inflammatory, is wholly irrelevant.
"O'Neal's purported acts of infidentlity have no bearing on the ownership of the Warhol Portrait… Even if the Court is inclined to find that such evidence is relevant, the reasons behind the alleged break-up, including any details of purported acts of infidelity, are clearly irrelevant, highly inflammatory and unduly prejudicial."
The University of Texas has sued O'Neal in a bid to recover the Warhol which it says the blonde bombshell bequeathed to it in her living trust.
This is not the first attempt O'Neal has tried to limit testimony in the case: He previously filed a motion in an attempt to preclude his foe of introducing any evidence or argument regarding "any tabloid or other media articles" regarding the romantic relationship between he and Fawcett and their respective facilities.
The judge overseeing the case — which is expected to run for two weeks — is yet to rule on the motion.