Exclusive
'Sometimes The Loneliness Makes Me Cry': Farrah Fawcett's Lost Love Letters To Secret Boyfriend Reveal 'Unbearable Pain' Of Her Dying Days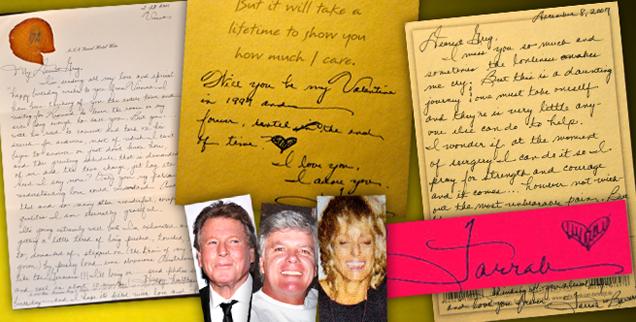 Farrah Fawcett sent a series of heartbreaking love letters from her deathbed -- and they WERE NOT addressed to long-time love Ryan O'Neal.
RadarOnline.com has exclusively obtained a series of private letters the late Charlie's Angel star sent to Greg Lott -- the man who claims to have been her college sweetheart and with whom she had a secret 11-year affair until her untimely death of cancer on June 25, 2009, at age 62.
Article continues below advertisement
The stack of correspondence has been provided to lawyers representing Farrah's alma mater, the Univerity Of Texas, which is suing 72-year-old O'Neal over a missing Andy Warhol portrait, thought to be worth as much as $30 million.
As RadarOnline.com was first to reveal, Lott, 67, is set to become a star witness in the art war trial in support of the institution of higher learning.
The trial is set to commence in the Los Angeles Superior Court in November.
But in a deposition on October 24 last year, Lott provided a sensational glimpse into the testimony he'll deliver from the witness box, including details of the actress' sex life, their apparent international jaunts together behind-the-back of O'Neal, her often volatile relationship with the Oscar-nominated star -- and their secret love letters.
"I think those letters speak for themselves," Lott declared to lawyers.
Article continues below advertisement
Lott was not paid for access to the letters.
The letters appear to contradict the attorney's "uncorroborated" statement and also reveal previously unshared details of Farrah's brave fight with anal cancer.
In one heartbreaking note, at the height of her battle to beat the cancer that had ravaged her body, Farrah bared her soul to her hidden lover.
"I miss you so much and sometimes the loneliness makes me cry," she wrote on December 8, 2007, from her hospital bed at a clinic in Bad Wiessee, in the southern German state of Bavaria.
Article continues below advertisement
"But this is a daunting journey one must take oneself and there is very little anyone else can do to help.
"I wonder if at the moment of surgery I can do it so I pray for strength and courage and it comes.
"However, not without the most unbearable pain."
In another letter, Farrah appeared defiant after being told she had not long to live. She even dreamed of a rendezvous with Lott in Acapulco, Mexico, where she made the 1979 film Sunburn.
"Let's both stay positive and count the days until our Mexican vacation," she wrote.
The letter, dated March 27, 2007, also sheds new light on her strained relationship with her stepmother Sophie. She married James Fawcett soon after Farrah's parental mother Pauline died in March 2005.
"Maybe I should fly to Houston for four days; Sophie's limit for visitation," Farrah told Lott.
In the same envelope of lust, the devout Catholic sent Lott a rosary, which he still wears around his neck even today.
Article continues below advertisement
"If we both say them the prayers we might certainly see each other soon," she told him.
"I love you with all my heart and just know I am getting stronger every day. Love always and forever. Farrah."
The letters show a romantic and delicate side to the multiple Golden Globe and Emmy Award nominee and are splashed with symbols of her love for Lott: She wrote on personal stationery inscribed with the letterhead 'Double F', often drew pink colored love hearts and stuck petals on the paper.
Farrah even wrote a short love note on the back of a brown leaf she had found on a Mexican beach, where she and Lott had secretly holidayed together, as he testified in the deposition.
"I'm sending you a piece of Maroma for your birthday," she penned.
"I brought this back from our love nest there."
On the front of one hand-written postcard was an angel, with a message in German, which Farrah translated for Lott: "Sometimes we have a little wish to send an angel to someone and for me that is you.
Article continues below advertisement
"Thinking of you always and love you forever."
In another intimate epitaph, a besotted Farrah scrawled on a napkin while on board a flight home to Los Angeles and boasted about their sex life after a covert rendezvous.
"Sitting here, missing you already more than I can say and so I decided to write and tell you," she wrote.
"Only guess what? No paper!
"So I go to the bathroom on Southwest flight #1311 and grab a paper towel.
"Not very classy but I know it won't matter because that's the beauty of us. No problems.
"I had the most wonderful time with you. Everything was more than perfect. Thank you for making it so special.
"No stressure (stress and pressure). Great food, great weather, great sex, great, great you!"
Lott has told lawyers that he last spoke to Farrah late on the night of April 9, 2009 – two-and-a-half months before she died.
Article continues below advertisement
Then, she was preparing to come home from a bout of treatment for an abdominal hematoma at St John's Hospital in Santa Monica.
Farrah reportedly told him: "I'm coming home tomorrow. I love you and I will call you."
Lott has said he never spoke to her again.
He claimed O'Neal, the actor who rose to fame in Love Story, froze him out of Farrah's life.
After Farrah never called, as planned, Lott flew to California but was refused entry – supposedly at the behest of O'Neal -- at her Wilshire Boulevard condominium in Beverly Hills.
RadarOnline.com's revelations create a complex puzzle about whom Farrah was romantically involved with in the last years of her life.
In one corner of this posthumous love triangle is O'Neal, the father to Farrah's son Redmond, the man who claims she had agreed to marry him on her deathbed. She died before the wedding could take place.
Then there is Lott, the star quarterback at Texas University in the 1960s, Who was left $100,000 in her will. O'Neal was bequeathed nothing.
Article continues below advertisement
Lott's journey back into Farrah's life took arduous detours through drug use, two prison terms and a battle with alcoholism.
"I lost her to Hollywood," Lott has admitted in interviews. "But I f---ed it up – twice -- and I wasn't going to f--- it up again."
He supposedly reentered Farrah's life in 1997 after she announced her split from O'Neal after 15-years.
The pair was in a "committed relationship… exclusive," he said during the deposition.
"For the record … this was a romantic relationship?" a lawyer probed Lott during the deposition, a transcript of which RadarOnline.com has exclusively obtained.
"Yes," responded Lott.
"A sexual relationship," questioned the attorney.
"Yes," responded Lott. "She saw no one else and I saw no one else but her."
In one letter, she told 'her darling Greg': "How sweet that we have been given the chance to grow up, grow wiser and I guess, older together.
"I'm grateful to still be a part of your life and benefit from your eternal optimism in so many ways."