Exclusive
Let's Get Ready To Rumble! Ryan O'Neal Sends Farrah Fawcett's 'Secret Boyfriend' A Signed Photo With Taunting Message: 'Nobody Wins. Peace'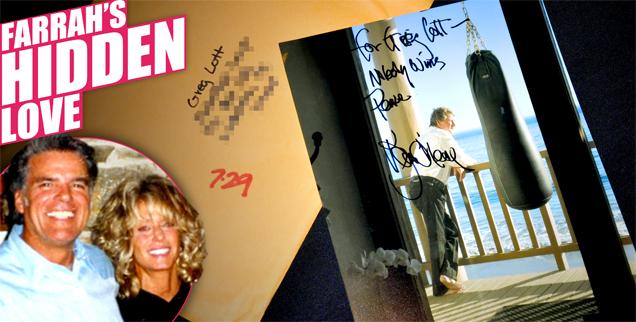 Ryan O'Neal sent an autographed photo of himself to Farrah Fawcett's secret end-of-life lover -- a man he'll square off with in a Los Angeles court in November -- with a hand written message: "Nobody wins. Peace."
RadarOnline.com has obtained a copy of the image, which was sent to Lott's post office box in Lubbock, Tex., in 2009 -- in the aftermath of Fawcett's death of cancer on June 25, 2009, at age 62.
Article continues below advertisement
It shows the Oscar-nominated actor on the balcony of his beachfront Malibu, Calif., mansion, with a boxing bag in the foreground.
A source close to O'Neal confirmed he sent the 8 x 10 portrait but insisted it was a peace offering and not spiteful.
"Ryan thought it would calm Greg down," the insider said.
"Greg had re-routed a lot of fan mail to Ryan, I suppose, in a bid to get at him. But Greg's move turned out to be a blessing for Ryan, because he was able to see the love the world had for her.
"Ryan then decided to send the photo as a peace offering."
But another source close to the situation told Radar: "Ryan is a narcissist. Who would do that? A signed photo of himself in front of a boxing bag. Hidden message? It's outrageous."
As we previously revealed, Lott is set to become a star witness in the multi-million dollar lawsuit between O'Neal and the University of Texas over a missing Andy Warhol portrait.
MORE ON:
Celebrity Justice
Article continues below advertisement
The Charlie's Angels star's high school sweetheart was questioned during a deposition regarding the painting on October 24 last year.
Most shockingly of all, Lott, a former University of Texas footballer who met Farrah in 1965, told lawyers that Farrah was his "girlfriend" until she died, according to a 273-page transcript obtained exclusively by RadarOnline.com.
The pair was in a "committed relationship… exclusive," he said.
"For the record … this was a romantic relationship?" a lawyer probed Lott during the deposition. "Yes," responded Lott.
"A sexual relationship," questioned the attorney. "Yes," responded Lott. "She saw no one else and I saw no one else but her."
O'Neal has publicly dismissed Lott as a "disgruntled ex-boyfriend from the Sixties."