Exclusive
From Housewife To Marriage Counsellor! Porsha Stewart Reveals How Cynthia Bailey Can Fix Her Marriage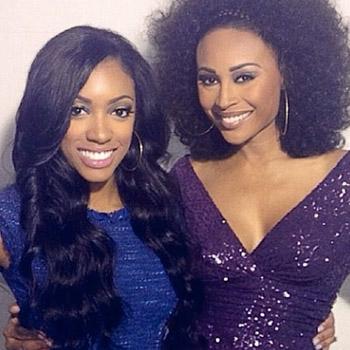 Article continues below advertisement
"Get a financial advisor," Stewart told RadarOnline.com in an exclusive interview.
"Get someone else who is handling her finances and someone separate for his finances because she needs to have someone to say no if he wants to pull money and she's not aware of that."
According to Porsha, if Bailey had a financial advisor in the first place, she would have known that Thomas used her money to purchase the Bar One property and would be aware of their financial situation sooner.
"If you had a financial advisor, she would have known that he took money to buy a property," Stewart said. "That's ridiculous."
But despite all the trouble that Bailey and Thomas are facing, Stewart doesn't think the couple is heading for a split!
"Watching Cynthia and Peter, what comes to mind is not divorce," Stewart said.
"They need prayer and they need some couple's counseling.
"They need individual counseling then they need couple's counseling because he's handling the household one way and she's thinking it should be ran another way, and he's not respecting her in the relationship," Stewart added.
"Going through what they are going through now as bad as it is, divorce is worse."
But even though Stewart is going through a divorce right now, it doesn't mean that she believes that is the best option for everyone's situation.
"If it were the other way around, I'd probably would still be fighting for my marriage," Stewart said. "So no, I do not think that divorce is an option for them right now."