Paula Broadwell's Back In Action! General Petraeus' Ex-Mistress Accused Of Getting 'Friendly' With Charlotte Mayoral Candidate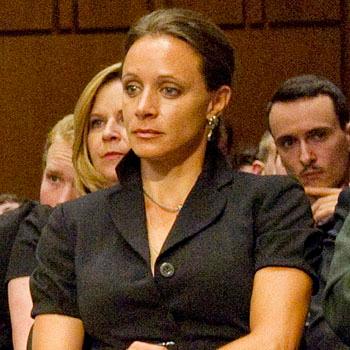 Almost exactly one year after Paula Broadwell's sleazy affair with General David Petraeus was exposed, the former West Point grad is making headlines again for her close connections to a political power player.
According to a special report in the Charlotte Business Journal, Broadwell has raised eyebrows for throwing her support behind Charlotte mayoral candidate Edwin Peacock, making a $100 donation to his campaign.
Article continues below advertisement
"We're friendly," Peacock, a married man, admitted to the Journal. And while Peacock claims that he and Broadwell's husband are part of the same workout group, his connection to Petraeus' mistress goes back to at least 2009, when both served on the advisory board of the Carolinas Freedom Foundation, a military veterans' philanthropic organization.
Peacock also revealed that Broadwell attended a fundraiser for his campaign last month.
This marks a new prominence for the unlikely femme fatale, who has inched out into the public eye in recent months after laying low in the wake of the scandal.
In September, she made her first public speech post-scandal at a meeting of the Charlotte Rotary Club.
Speaking of her work with veterans' groups, she hinted at her own history, saying "In my experience … you can't survive a personal crisis without a little help from your friends and a community which can help you rebuild personally and professionally. Charlotte is benevolent in this way."
Her friend, Rotarian Marilynn Bowler told local station WBTV at the time, "Paula had some unfortunate publicity, but instead of taking it and hiding and running away, she opted to dig in and say, 'OK, I made a mistake but watch this!'"