Exclusive
Sob Story: Dozens of Beliebers Unleash Flood Of Tears After Justin Bieber Cancels Show -- Watch The Video!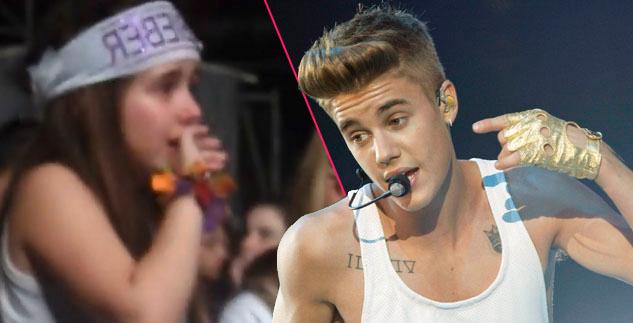 "I would never do anything to disrespect my fans," Justin Bieber tweeted on Thursday after news broke that he had mistreated an Argentinian flag mid-concert the week before. But that wasn't his only less-than-respectful moment in Buenos Aires: On Sunday, October 10, he cancelled his concert there mid-show, allegedly because he was feeling the effects of food poisoning (and not partying until dawn on Saturday). And now, RadarOnline.com has obtained a video showing just how upset his fans were at the slight.
Article continues below advertisement
The roughly 90-second clip shows dozens of fans in shock after the announcement, crying, screaming, and holding on to each other in disbelief. Almost refusing to believe that the cancellation was true, that Bieber had indeed left the building, they stood staring at the empty stage in between racking sobs (that were perhaps more than a little over the top). Watch the clip:
youtube=https://www.youtube.com/watch?v=B8AfJ7cLO2w&w=560&h=315
Reactions were just as harsh the night before when he stepped on and kicked an Argentinian flag that had been thrown on the stage. (He later claimed it was a T-shirt.)
"Do not return to South America!" Youtube user Cristiano Falk commented on a clip of the incident. "…You are an ignorant, spoiled … cultural tragedy!"
Jose Carlos Bravo chimed in, "Que hijo de *&%@ what a son of a b***h. He didn't understand how the latinos love our countries. To see somebody cleaning the floor with your flag is like seeing your mother f*****g with the mailman."
Article continues below advertisement
"Justin if you step again in my country," user C Pom wrote, "we are all going to kick your a**! You are a … shame to music. To all. A total LACK of respect. Believe me, you are not welcome here …"
Justin later apologized on Twitter. "Heard about what is going on with me down in Argentina and Imsic shocked," he wrote Thursday. "I love Argentina and have had some of the best shows of my tour there. People throw stuff on my stage all show and I get it to the stage hands to get off so no one got hurt. That video I saw a bra and thought it was a shirt. I'm being told by my team it was a shirt but even if it was a flag I would never do anything to disrespect Argentina or the people of Argentina or the fans. Im so sorry for anyone who took my actions the wrong way and I hope you can forgive this mistake. So once again to the people of Argentina. Im sorry if that was taken the wrong way and I'm sorry for my mistake. I hope u can accept this and I loved my time there performing for you and look forward to coming back. I gave my all and I know the fans did there too … I would never do anything to disrespect my fans …"
His actions the past few months, however, may suggest otherwise. Besides canceling the concert the night after the flag incident, he's also been accused of going through the motions and lip-synching at shows, and was even spotted allegedly spitting on some fans gathered below his hotel room.
Perhaps it's not a coincidence that his most recent singles have performed disappointingly on the charts. But instead of taking responsibility, Bieber has publicly blamed his record label for insufficient promotion.