A New Low! Watch Justin Bieber Battle to Keep His Pants Up -- And Lip-Synch On Stage!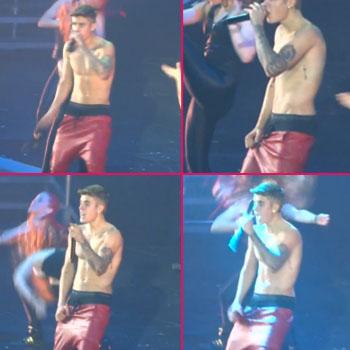 New friends, some time off, a good talking to -- Justin Bieber seems to be in need a lot of things as his life spirals out of control. But first and foremost, can somebody get this kid a belt?! Justin flashed practically his entire rear-end to an audience of teen fans as he struggled to keep his pants up -- and lip synched -- during a concert in Jacksonville, Florida, last night.
The red leather pants weren't anywhere near waist-level to begin with, but they slowly crept southward throughout his performance of Boyfriend. As he segued into "Baby," they were decidedly below buttcheek, and when he hit the dance break in that song, he had to squeeze tugs on his waistband in between dance steps.
Article continues below advertisement
Interestingly, Bieber also seemed to confirm reports that he's been lip-synching during his tour during Boyfriend, when Bieber held the mic down by his side and the backing track continued to play at full volume while he mouthed the words and danced.
Watch the video and let us know what you think in the comments!