Mark Wahlberg Slams Justin Bieber 'Pull Up Your Pants ... And Stop Smoking Weed You Little B*****d!'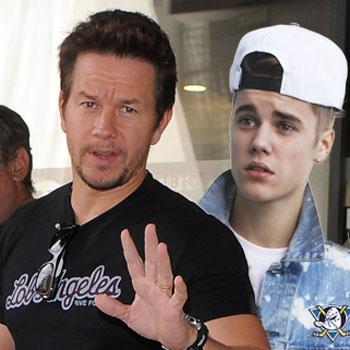 Justin Bieber's BFF Miley Cyrus has said he's acting "stupid" lately. His own mother has publicly criticized his behavior, but it seems that he's increasingly unwilling to listen to the advice of those around him and cut down on the antics.
Now, one-time bad boy teenybopper icon Mark Wahlberg is speaking out to slam "little bastard" Bieber's behavior -- and offer him some advice!
"Justin, are you listening?" Mark said in an interview with The Sun. "Don't be so naughty, yeah? Be a nice boy, pull your pants up, make your mom proud and stop smoking weed, you little bastard."
Article continues below advertisement
But still, Mark admitted, Bieber's problems pale a little in comparison with his own escapades. "He's a teenager living in a different day and age," Mark said. "I was in prison before I got a record, and I don't think he's been to prison."
While that is true, so far, Bieber is currently facing an assault charge for spitting on a DJ during a Cleveland nightclub brawl. His posse is also under investigation for a fight outside of a Hamptons nightclub earlier this week.
Mark continued with a little advice. "This career can be short-lived," he said. "You might as well be the best you can be while you're doing it."
And if Biebs should shape up, Mark says, they could even work together in the future. "Justin and I were talking about doing a movie, which could still happen," he revealed. "We have a great script that could be a vehicle for him to make his debut in movies, then maybe we could do something for the soundtrack."
Or what about an underwear line? Justin's habit of showing off his Calvins has drawn comparisons to Mark's Calvin Klein ads during the "Funky Bunch" days.
Mark first publicly criticized Justin back in 2010, when Bieber never returned a planned phone call to Mark's Belieber daughter.