Is That Sanitary?! Justin Bieber Sticks Fan's Phone Down His Pants, Then Gives It Back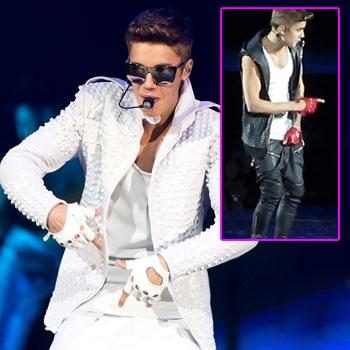 When celebrities talk about "giving back" to the fans, this probably isn't what they mean!
Justin Bieber left one Newark, N.J., fan with a unique memory and a little DNA when he stuffed the fan's phones down his pants, pretended to walk away and then tossed it back.
Justin was chatting with the crowd during a July 30 concert at the Prudential Center when fans started tossing items on stage.
"I don't need a bandana, honestly," he sniffed at one gift, before tossing it back into the crowd. Then, he kicked another item off of the stage before one fan managed to get his attention by tossing a phone.
Article continues below advertisement
"She's throwing a phone? Look at this!" Justin said. "I say 'Don't throw things on stage!' and this is what they throw. They throw a phone on stage."
He laughed, "I mean, I do need a new iPhone."
Then, grinning, he pulled out his belt and slid it below his waistline into his pants. Pretending to walk away, and smoothing his shirt down over his belt, he broke out into laughter before digging down into his crotch again to retrieve the phone.
Justin tossed the phone back into the crowd -- noticeably, in the opposite direction from where he picked it up -- and continued his rant, saying, "For real, though, don't throw things on the stage."
Perhaps Justin needs some lessons in personal hygiene? He was photographed allegedly spitting on fans from a balcony in Toronto just last week.
Was it all in good fun or simply disgusting? Watch the video and let us know in the comments!
youtube=https://www.youtube.com/watch?v=_wfHr_5uOaY&w=560&h=315